Larry Fuss sent me a note:
It just keeps getting more ridiculous…  "all your yogurt needs" from a Wal-Mart ad.

Some marketing genius, probably at an ad agency, probably got paid big bucks to come up with such a compelling message!
Here's what raised his ire.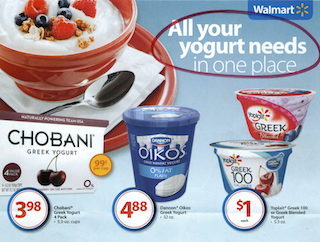 Notice to copywriters of radio advertising, TV commercials, print ads:
Aside from food, water and oxygen, consumers don't have "needs."
They have wants. Desires. Things they'd really like to obtain. Things that might improve their lives.
But no needs your advertiser can fulfill. 
If you are running any spots that refer to "all your _______ needs" and it was created in-house:
1.  Change the copy.
2.  Re-record the commercial.
3.  If the person who did the copywriting wasn't forced to refer to "your _______ needs," have a conversation with that person.
4.  If that conversation proves fruitless, have a conversation with the person who hired that copywriter.
Facebook Comments