SECURING A POSITION FOR YOU (AND YOUR STATION) IN RADIO'S FUTURE
by Larry Rosin
1 Hour, 20-Minute Audio Seminar; Instant Download!
Personal recommendation from Dan O'Day: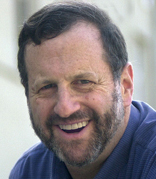 Like it or not, radio is changing dramatically, rapidly...and forever. If the job title you hold
today were to disappear forever, would you be employable? This audio seminar will teach you how to redefine yourself now, so that no matter where technology takes us you'll be eminently employable (and invaluable to your employer).
To hear an audio sample, click on the "Play" button above

You Will Learn:

Larry Rosin is President of Edison Media Research,
which offers research and strategic information to
radio and TV stations, newspapers, and cable
networks around the world. The company also
provides political research and conducts exit polls for
virtually all the major news organizations in the U.S.
Internet Security Note
The secure order form on the next page will look like this: