HOW TO CREATE WORLD-CLASS COMEDY
…ON DEMAND
Ken Levine, Dan O'Day
Ron Osborn, Stevens & Grdnic
2-hour Audio Seminar; Instant Download!

Behind the scenes with Dan O'Day: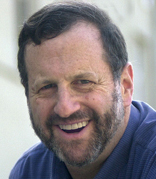 These two hours just flew by. Lots of laughs, as you'd
expect. But all of us were serious about delivering
solid information you can use to create comedy even
when under tremendous time pressures.
Click on player above to hear a sample.

Download your mp3 copy right now for just $29.
(2-Hour Audio Seminar; Instant Download!)

ost radio people who attempt on-air comedy try to make
themselves laugh...but not necessarily their listeners.
Your comedy is not being compared only to that of competing radio
stations. It's being compared to the hottest TV comedies that your
audience watches each night.
In this unprecedented seminar, you'll learn the secrets these comedy
masters use to create, edit, and refine original mass-appeal material.
Four of the five experts were extremely successful major market
jocks who relied primarily on humor.
The fifth panelist has no radio experience — but rock-solid TV
comedy credentials.
In this free-wheeling session, they all give blunt, practical answers to
straight questions — even "naming names" when asked for examples
of well-known radio hosts whose attempts at comedy are...Well, kind
of lame.
Your Comedy Coaches:
Ken Levine

is one of Hollywood's most honored and most prolific
comedy writers. In the 1970s, he was Head Writer for M*A*S*H. In
the 1980s, he produced CHEERS. In the '90s, he was Creative
Consultant for FRASIER. Today, Ken continues not only as a hot
comedy writer (THE SIMPSONS, etc.) but also as a director of over
40 episodes of TV including FRASIER, WINGS, DHARMA & GREG,
JUST SHOOT ME, EVERYBODY LOVES RAYMOND, BECKER,
LATELINE, FIRED UP, ENCORE ENCORE, and STARK RAVING
MAD. The winner of one Emmy and two Writers Guild Awards, Levine
also has written films for stars including Tom Hanks and Michael
Douglas.



Dan O'Day

founded two of radio's most successful comedy services:
OBITS and O'LINERS. Four major network and syndicated comedy
services have come to O'Day for comedy consulting.



Ron Osborn

has been nominated for eight Emmys. His TV credits
include CUPID (Executive Producer), DUCKMAN (Creator/Executive
Producer), MOONLIGHTING (Executive Producer), NIGHT COURT
(Producer), and MORK & MINDY (his first series, on which he was
Story Editor). He and his partner, Jeff Reno, have written movies for
George Lucas and Brad Pitt and created a comedy TV pilot for
John Cleese.



Stevens & Grdnic

(Ron Stevens & Joy Grdnic) have performed as
major market morning hosts, written for network TV comedies, and
released two Grammy-nominated comedy albums. Their company,
All Star Radio, syndicates Ron & Joy's produced comedy on more
than 450 radio stations.


You Will Learn:
Why so many of the attempts at comedy on radio sounds "forced"


How NOT to use a comedy service


The "good toupee vs. bad toupee" yardstick


Naming names: Radio's famous but fake funny people


The key to relaxing your audience so they are receptive to your
humor

Download your mp3 copy right now for just $29.
(2-Hour Audio Seminar; Instant Download!)
Why and how "genuine personality trumps great voice"


How having a great voice can hurt you


How to "write funny" when under the stress of a deadline


Your most important job as a radio personality (which also makes it
easier for you to be funny)


Tactical use of "placebo jokes"

Download your mp3 copy right now for just $29.
(2-Hour Audio Seminar; Instant Download!)
How to write funny characters instead of jokes


How to avoid "regression toward the mean" with edgy characters


How to freshen up long-running characters to maintain their audience appeal. (Do you think the guy who produced for CHEERS for a
decade might have some valuable tips for you there?)


The #1 element of comedy writing


Why you can't have output without input

Download your mp3 copy right now for just $29.
(2-Hour Audio Seminar; Instant Download!)
Why confusion prevents funniness


Do you write for yourself or for your audience?


Three radically different approaches to writing with a partner


How to cast a morning show


Should you "dumb it down" for the mass audience?


The easiest, most reliable and most rewarding way to make your
listeners laugh

Download your mp3 copy right now for just $29.
(2-Hour Audio Seminar; Instant Download!)