STRIKE FORCE RADIO
Fast, Inexpensive Radio
Ad Campaigns That
Produce Immediate,
Measurable Results
by Blaine Parker & Dan O'Day
90-Minute Audio Seminar
A Personal Message From Dan O'Day: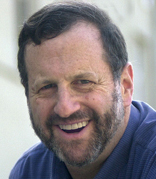 There's a right way to advertise on radio. And
when you do it right, you make money.
Unfortunately, too many advertisers insist on doing it the "wrong" way — and they end up losing money and convinced that "radio doesn't work."
But now, for the first time, when advertisers are too cheap or too
impatient to use radio properly, you still can create wildly
successful campaigns for them — with STRIKE FORCE RADIO.
For the first time, when stubborn advertisers insist on "testing"
your station for just a week, you can accept their business in good
conscience, knowing that you can produce fast, impressive
results for them.
In fact — and I know this is hard to believe — with STRIKE
FORCE RADIO you actually can do one-day campaigns.
This is a revolutionary approach to what used to be a no-win
situation. Until now, either you turned away that "wrongheaded"
client and lost the sale...or you took the money and allowed a
"test" campaign to go on the air with little chance of succeeding.
STRIKE FORCE RADIO has changed all that. And I will teach
you this unique method with the "help" of this man:


Blaine Parker
90 Minutes of New, 100% Actionable
Information For You To Use Immediately.
The traditional model of successful radio advertising — and
why it's still preferred


When & why you need to employ

STRIKE FORCE RADIO




How to use

STRIKE FORCE RADIO

to help businesses that are desperate for new customers in today's economy


How to use

STRIKE FORCE RADIO

with advertisers who
insist on a "one-week test."

STRIKE FORCE RADIO

is the
only way to succeed with a one-week campaign.


When

STRIKE FORCE RADIO

is properly employed, none
of your clients ever will walk away saying "radio advertising
doesn't work."


How to manage expectations of

STRIKE FORCE RADIO


clients


The five word response your campaign must elicit from the
targeted consumer


The single easiest way to generate massive, immediate
consumer response


How to determine their precise Call To Action


Why "scared money never wins"


The one thing that

STRIKE FORCE RADIO

and traditional
radio advertising have in common


How to match an "affordable schedule" with a Strategic
Audience


How to prepare your client for handling the sudden
onslaught of customers


How to develop a contingency plan to use if your STRIKE
FORCE RADIO campaign "works too well" (e.g., too much
business to handle!)


How to match an "affordable schedule" with a Strategic
Audience

STRIKE FORCE RADIO:
What Types of Businesses Will It Work For?
Virtually any business or profession can employ STRIKE FORCE
RADIO. Here are just a few examples of Blaine's extraordinary
success stories....
An air conditioning contractor had 2,000% ROI (Return On Investment) on a two-week campaign. He walked away
saying, "Thank you. We have more business than we can
handle."


A dentist saw an $80,000 ROI a $5,000 investment.


A furniture store sold more merchandise in a weekend than
— Well, let's just say they sold a LOT.


Selling $40,000+ worth of scooters in a single weekend


Filling a huge arena for a public event that targeted business people


Selling a book about politics (yawn) — and sending 3,000
new visitors to the website after the

STRIKE FORCE RADIO

commercial ran just twice on the first day


A psychological counseling service couldn't afford a
traditional, "smart" radio campaign. So instead they
employed a bare bones

STRIKE FORCE RADIO

campaign
for 3 weeks...and generated an average of 27 new leads per
week.
Includes Your Own Detailed Study Guide
Blaine and I will be sharing a lot of detailed information with you.
The Study Guide will help you organize, understand, and
remember that information.
"Blaine's practical approach is most helpful in managing what is often perceived as an unmanageable situation: the advertiser that wants to 'experiment' with radio, but hasn't a clear understanding of how to do it right. Blaine's 'Strike Force Advertising' principles can stand in the gap, providing clarity and focus both for the advertiser and his advertising counselor. Looking forward to listening again, and to sharing the ideas with clients and colleagues. Well done!!"
—Rod Schwartz, Grace Broadcast Sales
"The points Blaine made reinforce what Dan O'Day teaches.

But

I never thought about utilizing these ideas for a fast reaction campaign."

—Danny McWilliams, Center Broadcasting
"My sales team and production team was on the conference. Thanks so much. Made great sense to us!"

— Carol Healey, WFIL
"Great seminar, got into good detail on how to take a customer through the process of building a small campaign properly. All the principles of building a great, short campaign were laid out in logical order, and well explained with examples. We had a great Study Guide with which to make notes and get the important details of the seminar."
— Reinert Peterson, 100.3 the Q! and The Zone @ 91.3
"I've taken more pages of notes during this teleseminar than any I've attended. Thanks, Blaine and Dan for opening my eyes to all the great ideas!
"
—Ron Stevens, All Star Radio
"I thought Dan was kidding when he said there was a way to get rapid results on radio without investing a fortune. Turns out, he wasn't kidding. This teleseminar told you the bottom line on what you need to know to rapidly make radio work. The combination of Blaine Parker and Dan O'Day OVERDELIVERED. If they make this recording available, do not hesitate. Grab it."

— Harlan Kilstein, Direct Response Copywriter
Internet Security Note:
The secure order form on the next page will look like this: