HOW TO FIND, HIRE, TRAIN AND KEEP A GREAT
MORNING SHOW PRODUCER
by Ross Brittain
76-Minute Audio Seminar; Instant Download!
A personal message from Dan O'Day: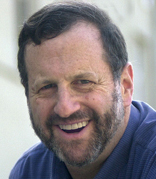 The title of this audio seminar pretty much says it all.

Ross Brittain's
30 years of morning radio success
are due to talent, hard work, long hours — and a "big picture" view of Show Prep and Show Structure that continues to keep him at the top of his game.
The main job of a morning show producer (from the air talent's
point-of-view)


The main job of a morning show producer (from the PD's point-
of-view)


Producer as "Stunt Brain"


How & why to design special features for individual morning
show members


Keeping your eye open for "sidebar material"


How to localize virtually any story


Morning show stagers


Producer as talent guide


Producer's duties before, during and after the show


The first question to ask someone who is applying for the job of
morning show producer


Other test questions for your final candidates


Required personal skills of a producer


One key personality trait your producer must have



A warning sign NOT to hire someone as producer




The danger of overproducing


How to get months of future material from remote location
broadcasts


The annual Blue Sky Meeting


The best time of year to try out new show content


Providing the air talent with set-up copy for prepared features


Maintaining an Alert System for on-the-spot, on-air/website
integration


What should be in your producer's Rolodex



Task lists for producers and show members




Why your producer MUST read the local daily newspaper (not
just the Internet)


How to do your own program's mini-focus group



7 most common mistakes

producers make that weaken the
morning show


The producer's job at a remote broadcast


Tips for call screening


The

primary question your phone screener should ask

before
putting a caller through to the air talent


Positive & negative caller balance


Producer's role with in-studio guests



The secret to getting big name guests

(regardless of your market
size)


Tons of great tips for interviewing guests (in-studio or over the
phone)


How to get the best of listener phone calls


The

Quick Critique Pad

Ross created for his PD to use for his
show

Ross Brittain has enjoyed morning show success for three
decades. Billboard magazine's Major Market Air Personality of
the Year. Co-host (with Scott Shannon) of Z100/New York's
original, legendary Z Morning Zoo...Mornings at WABC/New
York (in both its music and its talk formats)...Currently morning
host at WOGL-FM/Philadelphia...Publisher of the premium
show prep service, The Ross Brittain Report. Ross hasn't
slept in 30 years.