RADIO ADVERTISING HOT SEATS:

Solving Your Client Challenges

by Dick Orkin & Dan O'Day
2-Hour Audio Seminar; Instant Download!

Dick Orkin, Dan O'Day

wo dozen Hot Seat participants — radio commercial producers, copywriters, and account executives — each had 60 seconds to
explain a specific challenge they were having with a real client.
Then they found themselves in the middle of a creative tornado, as
Dick Orkin and Dan O'Day threw so many questions & ideas at them
that the volunteers didn't know whether to hide, duck, or yell for help.
At last, each Hot Seat volunteer staggered away limp, exhausted...
and exhilarated, because they knew that when they returned to work
they would look like absolute geniuses when they shared their great
new ideas with their clients!
Actual client challenges include campaigns for:
Race Track


Children's Theater


Auto Insurance


Automobile Dealers (2)


Telephone Company


Nightclubs (2)


College Football Team


Internet Solutions Provider


Mexican Restaurant


Tire Store


Discount Shopping Service


Furniture Store


Concert Promoter


Restaurant (Lunch)


Restaurant (Sunday Brunch)


Supermarket


Dick Orkin is a two-time legend. First, as the creator of the
much beloved "Chickenman" radio serial as well as "The Secret
Adventures of The Tooth Fairy." Second, as founder of The
Radio Ranch, as the multiple winner of every major radio
advertising award in the world.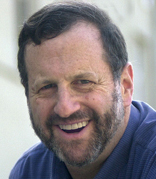 Dan O'Day is the world's highest paid freelance radio commercial
copywriter. Internationally known as radio's commercial
copywriting guru, O'Day has taught radio stations, ad agencies
and business owners in 36 countries how to create radio
advertising that works — that is a profit, not an expense, for the
advertiser. O'Day also is the creator of the Radio Advertising
Bureau's Certified Professional Commercial Copywriter course —
the industry's gold standard for radio copywriting.
Internet Security Note
The secure order form on the next page will look like this: