MORE MOUTH MONEY
Michael Bell, Nancy Cartwright, Joni Gerber
Ken Levine, Dick Orkin
100-Minute Audio Seminar; Instant Download!

Behind the scenes with Dan O'Day: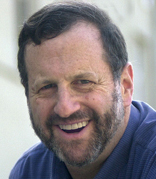 To moderate a voiceover panel that includes both
Joni Gerber and Michael Bell — wow! I kept waiting
for someone to yell, "Hey, O'Day, what are you doing
up there??"
Click on player above to hear a sample.


ithin the intensely competitive world of professional voice
performers, these five have achieved the highest, most
rarefied levels of success.
MICHAEL BELL: Perhaps Hollywood's Most Versatile & Successful
Male Voice Actor, Michael had somewhere between 400 and 500
voiceovers running at the time this seminar was recorded.
NANCY CARTWRIGHT: One of the busiest actors in Hollywood. And, of
course, the voice of Bart Simpson.
JONI GERBER: Perhaps the best in the business, Joni has won every
major voiceover award. Thousands of local, regional and national
commercials and too many cartoon series to list here. Oh — also the
voice of The Story Lady!
KEN LEVINE: How's this for "multi-faceted"? Ken is a major market rock
jock turned Emmy-winning TV comedy writer/producer/director turned Major
League Baseball play-by-play announcer!
DICK ORKIN: The creative force behind the world's most entertaining
and successful radio commercials…and, of course, the creator of
Chickenman.
Download your mp3 copy right now for just $29.
(100-Minute Audio Seminar; Instant Download!)
Download your mp3 copy right now for just $29.
(100-Minute Audio Seminar; Instant Download!)