MORE QUICKSTART RADIO
COPYWRITING TECHNIQUES
by Dan O'Day
72-Minute Audio Seminar; Instant Download!
Three More Ways To Write An Effective Radio
Commercial In Just Five Minutes

Dan O'Day

An important message

for the hundreds of
copywriters who already have purchased my
original

QuickStart Copywriting Techniques

:
More QuickStart Radio Copywriting Techniques is not a
rehash of the techniques you learned in QuickStart Copywriting
Techniques.
Got that?
These are three very different techniques for going from "Zero" to
"Radio Commercial Script" in just 5 minutes.
If you liked QuickStart Copywriting Techniques, you can safely
go directly to the "order" button and download this audio seminar
immediately.
In fact, here: Just click on this now:

f your job includes writing lots of radio commercials, probably
you already know that the hardest part of writing a spot is
STARTING.
That's why I teach my QuickStart Radio Copywriting Techniques
to copywriters around the world. They're fast, they're fun...and
they work.
When you download this audio seminar, I'll teach you 3
shockingly powerful ad copywriting techniques.
I'll explain each one, and I'll demonstrate each with a commercial
I wrote — using that technique — in just 5 minutes.
This seminar was recorded live before an international audience
of radio creative & production people. All the attendees were
given just a few minutes to apply each technique by writing their
own commercials for their own, real clients.
That means that for each technique, you'll hear real commercials
written by individual attendees right then & there.
After you've heard what each of them wrote in very little time,
you'll no longer wonder, "Is it really possible...?"
So download More QuickStart Copywriting Techniques right
now...Listen to it, take notes...And starting tomorrow your job
as a copywriter will be so much easier.
Use these three new, invaluable techniques to make your
radio advertising more compelling, powerful...and more fun to
write.
Use these for your "problem clients" or tough-to-crack station
promo copy.
Not only will you learn all three of my previously "secret" methods;
you'll also hear dozens of great commercials written by the
actual attendees during this session.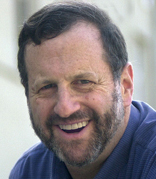 Dan O'Day is radio's commercial copywriting guru. He has taught
radio stations, ad agencies and business owners in 36 countries how
to create radio advertising that works — that is a profit, not an
expense, for the advertiser.
Internet Security Note:
The secure order form on the next page will look like this: