April 11 – 13, 2010:
I returned to Las Vegas for the umpteenth time to present How To Use Twitter To Increase Your Radio Station's Ratings & Revenue at the 2010 NAB convention.
As always when speaking at this conference, I stayed at the Las Vegas Hilton, which is adjacent to the convention center.
Boy, has the Las Vegas Hilton gone downhill since I stayed there just one year ago.
When I checked in, I tried to sweet talk the Front Desk clerk into upgrading me to a larger room. "I'm sorry," she said, "but I can't give you a complimentary upgrade because we're sold out."
No problem. They hadn't promised me one, and they didn't owe it to me. "I understand," I said. "Thanks anyway."
"If you'd like to pay $20 to $40 a night extra," she said, "I can upgrade you to a bigger room or one that's refurbished."
Wait. How does paying $20 to $40 extra suddenly make the hotel not sold out?
But I didn't press the point and settled for just a furbished room.
Upon entering my room I did what I always do when first entering a new hotel room: test the Internet hookup.
A long shelf against the window served as the desk. I connected the Ethernet cable to my laptop and, after the usual opening frustrations, managed to go online.
Good. Now to plug the laptop into the electrical outlet that would be…Well, usually it's on the hotel desktop, as part of a lamp fixture. But there was no lamp fixture.
Glancing around, I spied an electrical outlet a few feet away, on the wall to my left. But…
It had been sealed over with a covering to prevent anyone from using it.
At the far end of the long shelf, underneath, were some electrical outlets. If I kept the hotel room's ethernet cable connected to my laptop, the computer would be too far from the outlets. If I moved it closer to the electrical outlets, it would be too far from the ethernet cable.
Which is why once again I say, "The people who design hotel rooms should be forced first to live in them for a few days."
And which is why I always bring an extension cord with me on my travels.
As evening arrived, another Hotel Room Design challenge became evident: This was a very dark room, and there was no lamp at my "desk."
The corner of the room where the neutered electrical outlet resided was conspicuously empty — a large, vacant space. Clearly something was supposed to be there. "The lamp!" I realized.
I called Housekeeping and said, "There's no lamp near the desk in my room, and there's a big empty space where I think it's supposed to go."
"Okay, we'll send someone up with a lamp."
"Great. How long do you think that will take?"
"I don't know. If it's not there in an hour, call us back."

"If it's not here in an hour?? I can't just sit around waiting. I need to be able to work, and it's too dark."
She sighed. "Sir, we are very busy tonight."
I know; if it weren't us hotel guests, her job would be so much easier.
Eventually someone did arrive with an ugly, overly tall standing lamp equipped with a 40-watt bulb. When I turned it on, it illuminated an area approximately the diameter of the lampshade. In fact, I believe the room actually became darker when the lamp was turned on.
And  of course to plug it in, the housekeeper had to use an electrical outlet too far from my computer to help.
"Isn't it strange that the lamp was supposed to be there" — indicating the large empty corner of the room — "when there's no place to plug it in?"
She looked at the useless, shielded electric outlet. "Yeah, they covered that up when they redecorated. But this area isn't for a lamp. That chair" — pointing to a piece of furniture near the bed — "is supposed to here."
"Then what is supposed to be where the chair is?"
"A footstool."
"Where's the footstool?"
She shrugged. Why should she care?
After she left, I took a look at the "amenities" (a word used only in the "hospitality business"), which consisted of two bottles of water. The tag attached to each bottle said:
"Bottled water is one of the many services we offer our valued guests. Please note that $4.00 will be charged to your room for each bottle consumed."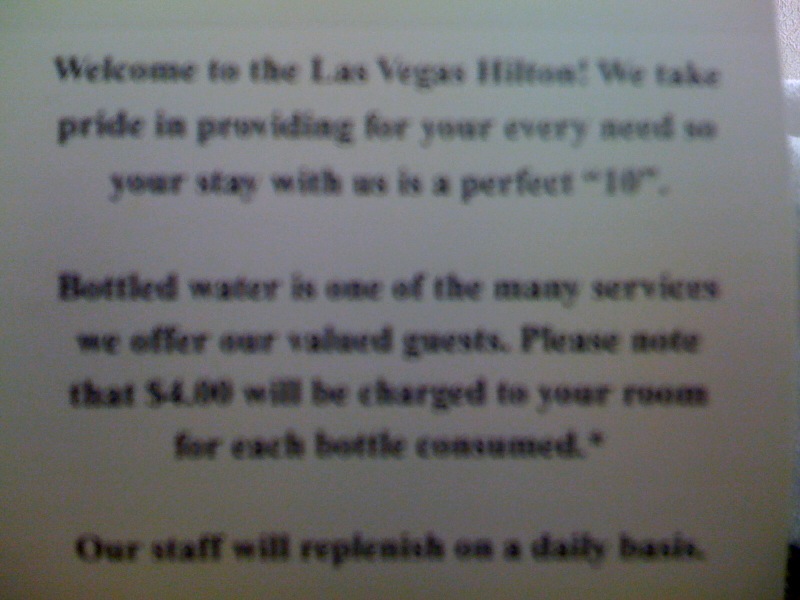 Hold it. Either you're honoring me as a valued guest by offering a service, or you're trying to sell me something. Either one is honorable. But don't pretend you'd be doing me a favor by selling me a bottle of water for $4, because we both know that's not true.
Later that evening I noticed a door hanger (similar to a "Do Not Disturb" sign) on my bed: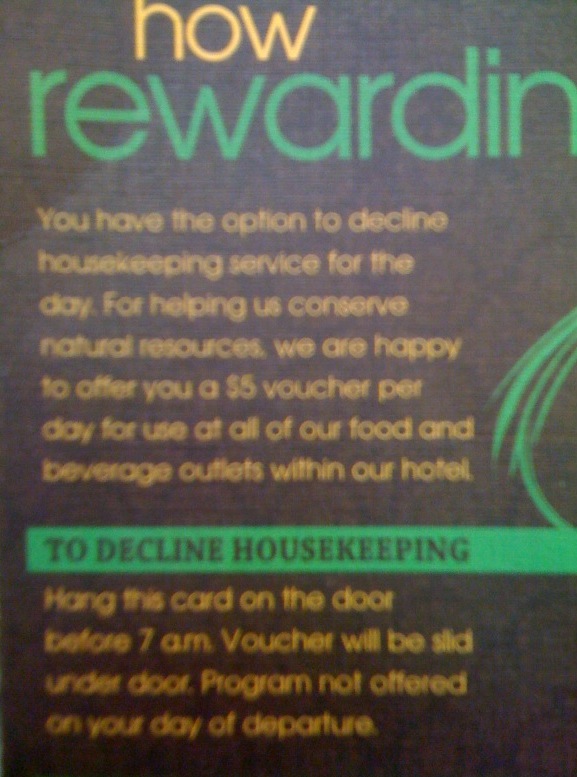 "You have the option to decline housekeeping service for the day. For helping us conserve natural resources, we are happy to offer you a $5 voucher per day for use at all of our food and beverage outlets within our hotel."
That was a first for me.
But again, if only they wouldn't lie.
They're not trying to conserve natural resources; they're trying to save money. Nothing wrong with that. Why not tell the truth? "If we don't have to clean your room, we don't have to replace and wash the linen and pay someone to tidy up your mess."
As I thought about it, I realized there would be an advantage to not having my room made up next the day: That would minimize the likelihood that a housekeeper would throw away any of my belongings.
Over the years housekeepers have thrown away food, magazines, newspapers, and work papers. These days before my room is cleaned I put any food in drawers and any papers underneath my computer.
So I figured, why not take the $5 voucher and have my room unsullied?
The instructions were to hang the sign outside  by 7AM, and in the morning the housekeeper would slide the voucher under the door. I put mine on the doorknob just before going to bed.
At 8 o'clock the following morning, I awakened to find…no voucher.
I opened the door to discover a housekeeper cleaning the room directly opposite mine. I asked her about the voucher. "You have to go get it from the Front Desk," she said.
That can't be right. Fortunately, another housekeeper was just down the hall. I asked her about the voucher. I'm sure she would've helped if she'd understood what I wanted, but she spoke no English.
Turning back to my room, I noticed something against the wall, a few feet from my door: a footstool.
Well! That's impressive. Obviously the woman from the previous evening had arranged to have my missing footstool replaced.
A handwritten note had been placed on the well worn piece of furniture: "Broken."
No, the woman from Housekeeping hadn't arranged to replace anything. Another hotel guest had put his room's broken footstool "out on the curb," so to speak. (I'm not sure how a footstool breaks, but…)
Back inside the room, I called the Front Desk to ask about my $5 voucher. "No, of course you don't have to come downstairs to get it. I'll call Housekeeping and have them bring one to you right away."
An hour later I called Housekeeping: Where was the promised voucher?
"We're printing them up now," I was told.
Makes sense. I mean, there's no way they could have printed them before they were supposed to be delivered.
That evening I received an email from United Airlines, reminding me that I now could check in for the next day's flight back to Los Angeles.
I called the Front Desk to make sure they had a kiosk or printer for guests to use to print boarding passes.
"Yes, we do," I was told. "It's right next to the Front Desk."
"Great, I'll be right down."
"Um….You should know there's a $3 charge."
"A $3 charge for a guest to print a boarding pass?"
"I know," she said, sympathetically. "But we don't have a choice. The airport requires the $3 charge."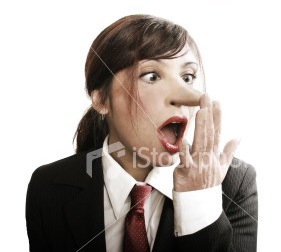 Wait a minute. Two questions:
Why…and How?
Why would the airport discourage passengers from printing their boarding passes in advance? Airports want passengers to do that kind of thing before entering the building.
And other Vegas hotels print boarding passes for their guests without charging a fee.
And exactly how does the airport enforce this? If I had a laptop and a printer, I could print a boarding pass from within the hotel…and without McCarren International Airport holding its greedy hand out for three bucks.
It made no sense…until I realized: She was lying.
Okay, let's be fair: It's entirely possible that she thought she was telling the truth — that she was repeating a lie that had been told to her by hotel management.
But I don't believe she was telling the truth.
The next day I took a taxi back to the airport and paid my fare with a credit card. The driver looked uncomfortable as he handed me the receipt. Immediately I saw why: A $3 charge had been added…for paying with a credit card.
Yes, some Las Vegas taxis now accept credit cards. And they charge you $3 for that service, without telling you in advance that they'll be charging you $3. You learn about it only after they've swiped your card.
This sleazy practice apparently has been the source of some controversy. According to the Las Vegas Sun, a Nevada Taxicab Authority staff report "indicated that in some cities, there's no extra fee for a credit or debit transaction and it's considered a business expense to the cab company."
Uh, staffers? Some cities? How about all cities…except Las Vegas?
The same Sun article reports, "Board members were told information about the fee is detailed on a computer screen in the cab before the ride starts and a customer would have to 'opt in' to the extra fee before the cab departed on the ride."
There was no "opt-in." I'm sure there was a notice of the $3 theft — um, "charge" — somewhere in the taxi. Probably on the seat, underneath me. But I wasn't aware of the rip-off until after my credit card hard been processed and I was handed the receipt.
I've been to Las Vegas at least a couple of dozen times. Both the Las Vegas Hilton and the city's taxi regulations seem in dire need of a makeover.
Almost forgot: They even ran out of food at their Big Buffet. Seriously…
Please follow and like Dan's blog:
Facebook Comments