CONTEXTUAL RADIO PROGRAMMING
by Dan O'Day
2-Hour Audio Seminar; Instant Download!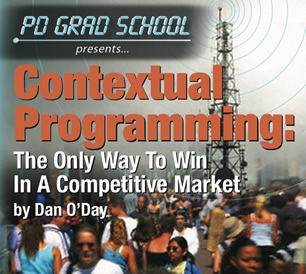 Personal message from Dan O'Day:

ave you noticed that your radio station faces more competition
than ever? Not just from other radio stations. You also compete with the Internet, TV, iPods, DVDs, DV-Rs, cell phones — all vying for your audience's attention.
It's no longer enough to play songs, provide information, and make a
lot of noise in the marketplace.
If you think you can win with "the best music mix" or "the best
variety...."
Or "the most up-to-date information...."
Well, your competitors have access to the same music and
information.
In the modern world of radio broadcasting, there is only one sure-fire
way to attract and keep a large, loyal audience.
How?
With CONTEXTUAL RADIO PROGRAMMING.
Warning
This audio seminar will challenge the way you do just about
everything on your station.
It might make you uncomfortable, as you are forced to choose:
Do you want to continue to follow the radio herd, or do you want to
break away and become the leader of the pack?
Theory + Proof + Application
In CONTEXTUAL RADIO PROGRAMMING, I explain the
psychology that makes this form of radio so powerfully effective.
That's the "theory."
But like you, I'm a radio professional — not an academic in some
ivory tower. That's why it's important that I demonstrate to you —
from a variety of media and from "real life" itself — that the principles
I'm teaching you really do work.
That's the "proof."
Of course, the part you'll be most interested in is:
"How can I incorporate these principles into my station's (or
program's) programming?"
I won't just teach you the theory & principles and convince you that
they work. I'll show you how you can begin applying them
immediately.
That's the "application" part.
Here's Some Of What You'll Learn.