Now you can own every radio episode of the original series of the most fantastic crime fighter the world has ever known, thanks to
This is the only legal, authorized CD collection of Chickenman episodes - personally, painstakingly and lovingly compiled & edited from the original tapes by Chickenman's creator, Dick Orkin.
(By the way, many people mistakenly think the character is named "Chicken Man." Nope, it's just a single word: Chickenman!)
Chickenman was created by Dick Orkin at WCFL Radio (Chicago) in 1966 as a daily serial that satirized the then-popular TV series, "Batman."
Dick Orkin wrote all the episodes and starred as Chickenman, "the most fantastic crime fighter the world has ever known."
At the time, Dick had no idea how incredibly popular this humble radio comedy serial would become. It was (and remains) a worldwide phenomenon.
Even today, if you yell "Chickenman!" millions of loyal fans will instantly respond, "He's everywhere! He's everywhere!"
Listen to the Origin of Chickenman Now
In addition to radio listeners in every English-speaking part of the world who heard Chickenman on their local radio stations, millions of U.S. servicemen who served in Vietnam hold Chickenman very dear to their hearts...thanks to its broadcasts over American Armed Forces Radio.
In fact, there even was a "Chickenman Battalion."
(If you have a friend or relative who served in Vietnam, ask them about Chickenman. This collection probably will make a wonderful gift for them.)
Order The Story of Chickenman Now
Order your Limited Edition Collector's Story of Chickenman today!
14 compact discs in a cool Chickenman box

All 273 episodes - every episode that ever aired of the original series!

Chickenman station promos & contests

Bonus: Dick Orkin shares behind-the-scenes stories of Chickenman's creation

Bonus: Chickenman's original production engineer, Mike King, reveals for the first time the trials & tribulations of bringing the Wonderful White-Winged Warrior to life in in the studios of WCFL/Chicago. (The day-to-day struggles within the radio station were nearly as entertaining as the comedy series itself.)

The original, complete & unexpurgated story of the most fantastic crimefighter the world has ever known!


The only authorized, behind-the-scenes story of the historical and hysterical radio serial that entertained millions of devoted listeners worldwide.

This is a limited edition. If you're a Chickenman fan - or know someone who is - order your copy today!
Order The Story of Chickenman Now
Note: The Story of Chickenman is not for broadcast; it's for your personal enjoyment only.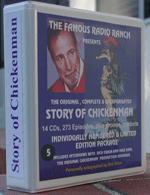 I love this whole package. I've been a fan of Chickenman since the beginning. Hearing it again brings me back to where I was and what I was doing when I first heard the show. Hearing it all in a row allows me to bask in the creative genius of the creators and inspires me to work harder on my own creations. Thanks for making this available.

— Brett Carter/Cottage Grove, MN
Thank you very much for your prompt service. I love the Chickenman CD set! I even have my youngsters listening. My daughter calls her little brother "the Commissioner" and he calls her "Miss Hellfinger." Ya hadda be there.

— David Banks/Sisters, OR
It feels terrific to have the complete episodes of the Winged Warrior. I first heard the Chickenman episodes on vacation in Vermont when I was younger. Our cabin had no electricity except for the telephone and we used a battery operated radio for entertainment. The highlight was to listen to the adventures of Chickenman, crowded around a small radio. It brings back good memories every time I listen.

— Dan Reavey/Flagstaff, AZ
Our family fell in love with Chickenman some 30 years ago. He has lived on in our hearts and minds ever since. Chickenman is a funny bit of radio history that is enjoyed by young and old alike. Thanks to Dick Orkin for sharing him with us.

— John Folkerts/Roxana, TX
Most of these episodes I only heard once, back in the '60s, on radio station WHB (then on 710AM) in Kansas City. I religiously timed my lunch break so that I would hear the last 3 songs in the Top 40 countdown and the Chickenman episode for the day right before the news. Listening to them again nearly 40 years later brings back the memories of those voices, that silly silly Chickenman, and that announcer who always ended each episode with, "Wellllll ...." Thank you for making these wonderful episodes available again.

— Dennis Quinn/Seattle WA
Order The Story of Chickenman Now
The Chickenman package arrived just in time to be wrapped and delivered to my husband for Christmas. He was both pleased and surprised to find that there were so many Chickenman episodes to look forward to!! However, the real appreciator of the gift has been my 9-year old son. Among the many other entertainments in life, he has found time to enjoy the entire package from beginning to end three times now in the last month. Just can't seem to get enough of that funny fowl!! From the frozen north of upstate NY, we thank you for the winter's entertainment.

— Kathie Smith/Ithica, NY
I'm extremely happy with the The Story of Chickenman. It's the first time I have in one place at one time all of the episodes that were aired. This brings back so many memories.This is a true comedy classic. I don't know who he is, but I do know this.....

— Ted Sudol/Garfield, NJ
It's like being back in the good old days! I used to listen to Chickenman on the way to school in the morning when it was on WCFL and later again when it was rerun on WLS. If you're a Chickenman fan like I am, I'm sure you'd enjoy having the old episodes to listen to again.

— Jim Van Wienen/Valparaiso, IN
Chickenman holds a very special place in my heart. I was stationed at a remote USAF radar site in Alaska during the mid 1970s and Armed Forces Radio (AFRN) broadcast a Chickenman episode twice daily, once at lunchtime and once in the early evening. However, the lunchtime broadcast was most memorable. Our little mess hall always had AFRN playing over the P.A., and I remember how the place would come to complete silence when the familiar intro, "And NOW, the greatest crime fighter the world has ever known," came on. Our commander could only wish that he could garner that much attention from us during HIS messages! Since my purchasing the Chickenman series, it has not only given me many hours of fine entertainment but has also rekindled some very fond memories of a time in my life almost thirty years ago. (Good heavens! Am I THAT old???)

— Harvey Hartman/Waller, TX
I came of age as a member of the "psychedelic underground" in Cleveland in 1967. My friends and i awaited the daily episode of "the fearless feathered fighter" with great anticipation and played all the roles ourselves with great glee. (Weeeeelllllll!) This brings back wonderful memories.

— Dan Field/Cambria, CA
Order The Story of Chickenman Now
My Chickenman CDs are fantastic! I have played them in my car as I travel round New Zealand and have enjoyed them immensely. I will have to admit though, that my kids think I'm a bit weird.

— Euan Thomson/Wellington, New Zealand
I always loved Chickenman and my wife had never heard of it; she likes it too! People I work with who know Chickenman are jealous but also interested, so I gave them your website.

— Chuck Young/Sturgeon Lake, MN
The Story of Chickenman arrived as quick as I could have hoped. It's a lot of fun. The remarkable thing is how many episodes are so close to the way I remembered them.

— Mark Bernstein/Ann Arbor, MI
Over the years I've told many people about a radio serial that I listened to in Chicago long ago. Usually I'd get blank stares, as nobody would believe it. In a bit of serendipity I checked on the Internet to find some collaborating evidence of the character just about the time that the idea of putting up the series on CD was being hatched (so to speak). Well, now I have all the proof I'll ever need, and I can enjoy it when ever I want. Thanks for many good laughs and almost as many groans.

— Jeff Tom/Torrance, CA
I first discovered Chickenman on my way home from work in my '77 Chevy pickup, tuning up & down the dial looking for something to keep me company during my commute. I came across a very small local station that (back then) broadcast out of an amusement park near downtown Portland. I thought then, (and still do) that it's hilarious, this is some of the BEST comedy I ever heard! Not to mention the character voices, dry humor & delivery! But the episodes were so short! I immediately wondered where I could get my hands on ALL of these!

Ever since I first heard Chickenman on that dark, lonely drive home that night oh those many years ago I've kept my ear to the radio & Internet for even the SLIGHTEST mention of the "Holy Grail" of collections, the Caped Capon, Chickenman. I discovered your website and perused it once a year until I saw the link to purchase the WHOLE DAMN SERIES!!!!!!!!! and Viola!

— Rodney J. Koch/Portland, OR
Order The Story of Chickenman Now
I was very excited to finally find the story of Chickenman after years of searching stores, catalogs and web sites without success. To find every episode in one package was more than I had hoped to find. Thank you for making this available.

Anyone who ever enjoyed listening to Chickenman on the radio should consider purchasing this package. It still makes me laugh and brings back many fond memories from when I was younger.

— Robert Killingsworth/Springfield, MO
We have been wanting more Chickenman for YEARS. We haven't made it through all of the c.d.'s yet, but what we've heard has been like the clouds have opened, light has shone down upon us, and the meaning of life has been revealed. Can't wait to see what happens when we listen to CD #2! We'll let you know what we think of the interview and the rest once we get to it. Thank you SO MUCH for getting this package together!!

— William and Brenda Kumma/Lynnwood, WA
For years and years, I have been asking my husband how in the world I could track down a copy of the radio program I was addicted to when I was in high school. I didn't remember Dick Orkin's name or the radio station I listened to for the show. I just remembered how funny it was and the basic premise of the series. My parents vaguely knew what I was talking about but were really no help whatsoever. My husband grew up in St. Louis and had never heard of the show, so I feared he would never be of much help. But thanks to the amazing research benefits of AOL, my husband surprised me on my 49th birthday with the fabulous Chickenman series.

I can assure you that I have never been so excited about a gift in my life — really. There have been so many times over the years that I would ask people if they recalled the program; but no one did; end of subject. But now I am one happy camper and have been able to share my fortune with my family. I spend a lot of time in my car with a smile on my face — laughing out loud — as I share my ride with Chickenman and the great cast of characters. My husband and I listened with great interest to the special interviews and enjoyed them so. Needless to say, I am so pleased to own this copy and will treasure it always. I'm a huge fan and appreciate the casts' efforts and hard work. Dick Orkin is a genius!

— Rose Wind/Hawthorn Woods, IL
I received my copy of The Story of Chickenman just in time to take it with me on my long trip back east. Well, it was every bit as funny as I remembered it from so many years ago. I had to explain to the couple sitting next to me on the plane why I was laughing so hard.

Do you have any idea how hard it is explaining Chickenman to a couple of strangers on a plane??? I finally convinced the wife to listen to an episode... so here SHE is laughing, and her husband is awkwardly waiting for his turn. By the time we finished the flight, we were sharing such quips as, "rhyme is running cramped on the streets," and "I'm flapping, I'm flapping." Tell the wonderful, white-winged warrior he has two new fans in the air. ("He's everywhere, he's everywhere!")

All that to be said, I can't thank you and Dick for making this available to us. Also, thank Dick for sharing his memories on the extra disk — very informative and fun!

— Ken Thomas/Denver, CO
I received The Story of Chickenman on time and in excellent condition. I love the set. I've been wishing for something like this for about three decades - ever since I wore out "The Best of Chickenman" on my old record player. Remember vinyl? Recordings sure weren't as durable back then, especially when you spun them backwards with your finger to decipher some squeaky alien language...

It's great to have all of the episodes instead of just a tiny sample. Thank you so much for making these classics available to all of us old-time Chickenman fans!

— Rick Chadderdon/Melbourne, Fl
Order The Story of Chickenman Now
ECSTATIC! I pump my head full of Chickenman on the way to work and consistently am the only person who starts the workday with a smile on my face!

— Andy Revie/Springfield, VA
The Story of Chickenman arrived safely and in timely fashion. It was a gift for my daughter and her husband, and I wish you could have seen her face when she opened it — nonplused doesn't describe it. It took a moment for what she was looking at to register, and when it did, she just beamed from ear to ear! Couldn't believe that Chickenman was still around, and is simply delighted. Here's the really good part - she works on the North Slope in Alaska, and what a great way to pass the long, boring and dark hours.

— Judy Feldman/North Miami. Fl
This is a timeless classic. Chickenman is as good as it gets.

— Larry Kendra/Lisle, IL
The CD's arrived to my Canadian address with no problems at all! And it was such a pleasure to hear the Chickenman theme after all these years! It brought back so many memories for my brothers and I. We would listen to the episodes on our Toronto radio station (I don't remember which station it was) every day after school. And now, here they are, sounding even better on CD! The interviews included with the episodes were great. When I mention to some people at work that I own all the Chickenman episodes, there is usually a long pause and then "Hey! I remember that on the radio years ago!" response. It's so cool to see the peoples faces as they recall the episodes. The grin that erupts on their faces is priceless. At that point I usually get the "Can I borrow the CD's?" question.

— Michael Godin/Toronto, Canada
I received the Chickenman CD's and they are still as funny as when I first heard them 30 years ago. Good humor never grows old. I've listened to them over and over. Thanks!

— Keith Smith/Narvon, PA
Order The Story of Chickenman Now
The Chickenman package was terrific. I listened to it in the car to and from work for about 2 - 3 weeks. I enjoyed everything about it. It feels very Balk Balk Balk Balk!!!! Beautiful to have every episode and promo. I finally can hear every episode — Even ones I never hear before, clear, clean & uncut. Over and Over...The Winged Warrior will live with me forever! Thank you very much.

— Peter Petrone/Dumont, NJ
I received my The Story of Chickenman in fine shape. I love it. I cannot listen in my car because I might run off the road for lack of ability to breath while laughing. And, I feel so much safer knowing he is out there, fighting crime and/or evil! Thank you very much.

— Mike Martin/South San Francisco, CA
I'm 62 and have a Chickenman poster on my office door. The CDs are often playing in the background. Most of my employees weren't even born when Chickenman came out. They look at me strangely and shake their heads when they walk by my office. I interrupt people when Dick's ads come on the radio and tell them, "That's Dick Orkin, the greatest ad man around. Do you remember Chickenman?" It's a great conversation starter.

But seriously . . .

A very close friend of mine came down with Aplastic Anemia 19 months ago. Little 6 year old Kinsey Morrision almost died last year. Kinsey had to endure long hours of blood transfusions week after week in the hospital. Her mother, Karen, would sit by her bedside and hour after hour they listening to the Chickenman CDs. Doctors and nurses got hooked on them and looked for every opportunity to drop by the room to hear the next episode. They couldn't just stand there and listen so they busied themselves checking her vitals, tucking in sheets, and anything else they could think of to give them an excuse to be in the room. Kinsey got the best care any little girl could expect. Kinsey has recovered and has returned to a normal life.

So my advice to anyone having to go into the hospital is to take the Chickenman CDs with you to give the doctors and nurses a good reason to keep coming into your room to check up on you.

— Richard Nadolny/Albuquerque, NM
This package turned out to be far more than one could hope for. Who would have expected such a complete and high quality collection (and from an authorized source, to boot!). Chickenman has always been on my short list of "must have" programs (for many many years) and I was amazed to find it was at last possible to own my own copy. The humor of Dick Orkin and his crew is unmatched in any medium, and the Chickenman series is second only to the "Tooth Fairy" in being outright hilarious. Thanks for making this fun and timeless program available to those of us who were not able to hear every single episode on the radio.

— Michael Fancher/Chowchilla, CA
I received the Capon Crusader's package in good order, and to be honest I'm ecstatic with it. Since it's hard to put a price on a daily grin or two, I consider it to be one of the better investments I've made lately.

— Steve Phillips/Scottsdale, AZ
Order The Story of Chickenman Now
I received The Story of Chickenman and love it. It filled in some blanks, since I first heard some of them back in late summer of '66 on WCFL but on a catch-as-catch-can basis. And there was a lot more too, since I didn't know anything about the later stuff, including the Earth Day stuff. Now I know the rest of the story. I introduced the White Winged Warrior to my kids, who are in college, and they howled. Chickenman is still a cool dude.

— George W. Halldin/Fremont, CA
The Story of Chickenman (he's everywhere, he's everywhere) arrived safely and has provided many hours of entertainment. If you grew up, as I did, listening those old early evening radio serials (Superman, et al), it makes the Chickenman series all the more meaningful. The authenticity of the characters, the creativity of the writing, the timing of the dialog, the sound effects — all contribute to an evocative as well as an entertaining experience. But most of all, it's the opportunity to use your imagination in ways that have been lost to television.

— Phillip Brookshire/Cincinnati, OH
The Story of Chickenman arrived in great condition, and I immediately began playing the CDs. I LOVE Chickenman! Chickenman reminds me of my favorite radio days. We had one of the best DJs here in Seattle, Pat O'Day, who had a wonderful sense of humor. Perhaps, he was the one who originally introduced us to Chickenman. I can't remember. What I do remember, and the phrase that floats to the top every so often, is "He's everywhere, he's everywhere" — a phrase I use every so often and, until recently, didn't remember where it came from. Chickenman lives, and I'm delighted. Thanks!!!

— Julie Lawell/Seattle, WA
I got The Story of Chickenman, and I'm thrilled with it. This officially licensed, multi-CD set features all of the episodes, rare promos and fascinating new bonus interviews with Dick Orkin and others. The sound quality is superb, and it's wonderful to have all of the episodes in broadcast order so the Great CM's adventures follow each other sensibly. It's also wonderful to hear the rarely heard weekend episodes where Chickenman fights the evil Earth Polluters. The set is well worth the price. My five-year-old son thinks CHICKENMAN is very funny, too!

— Mike Murphy/Medway, MA
In the late '60s, when I was but a callow youth living on the North Side of Chicago and attending one of the city's fine educational institutions — Albert Grannis Lane Technical High School, a.k.a. "Lane Tech" — one of my cherished possessions was a Zenith transistorized AM radio. It was white, and I carried it in a brown leatherette case which had holes in the front so that you could hear the radio.

And every weekday morning, as I perambulated to my school — for I lived but one and one-quarter miles away, and walking was excellent exercise; but I digress — I listened to the morning DJs. Depending upon my mood, I tuned to Howard Miller on WIND, or Clark Weber on WLS, or Wally Phillips on WGN, or Jim Runyon on WCFL. But especially to Jim Runyon, because on his show I could hear the adventures of The Most Fantastic Crimefighter The World Has Ever Known: Chickennnnnmaaaaaaaan! (He's everywhere! He's everywhere!) Dum da-da-da dum!

Even if I tuned away from WCFL after the day's episode, my morning was complete. A daily dose of humor had, for a while at least, removed me from my mundane existence and transported me to a world where everyone was more incompetent than I. With the exception of Miss Helfinger, of course, who was more competent than any man in Midland City, fortunately.

Little did I realize that Benton Harbor's handling of life's little annoyances, such as a malfunctioning Geshtunkana ray gun, were accurate depictions of the real world. From him, I learned the values of perseverance, of being loyal to one's friends, and that dressing strangely didn't mean that you *were* strange.

If not for Chickenman, I may never have achieved my dream of a wonderful wife, a house in the country, 2.4 children and a fat bank account. (Actually, I'm currently underemployed with a wife, three cats, a dog, a house in the country, and a huge mortgage; but none of that is Chickenman's fault.) Fight on, feathered fighter!

— Edward Floden/Wonder Lake, IL
Order The Story of Chickenman Now
I received The Story of Chickenman safely and in pristine condition. I have only listened to a few episodes as this is a very special birthday gift for my sister and her birthday has not yet arrived. The few episodes I have listened to have brought back fond memories of high school mornings spent huddled next to the clock/radio to catch the latest mini-episode before heading off to catch the bus. We loved the dry comedy, the absurdity of the adventures, and most of all, the milk-sneeze-inducing opening theme montage that we adored above all things (He's everywhere! He's everywhere!).

— David Pasteelnick/Jackson Heights, NY
I remember the Chicken Man series when it was played on a local radio station (WOHO) in Toledo, OH around '66 or '67. I was working there as the evening engineer / newsman. (Or, was it later around '76 when I was working there as the Chief Engineer? Too long ago, hard to remember!) The series had me rolling on the floor with laughter and even now I think it is incredibly funny. I am very happy to have the episodes available for listening and sharing with guests.

— Gary Sharpe/Lawrenceville, GA
I received The Story of Chickenman in good time and enjoyed it immensely, and I would recommend it to any Dick Orkin fan or to anyone who enjoys the inventive and rollicking humor we associate with the Golden Days Of Radio.

— Richard Moreno/Vero Beach, FL
I feel SO fortunate to own every episode plus promos and I especially like the connection with the EPA. I have been using Chickenman in my Social Studies class and in my English class (the interviews on the creation are wonderful, too!). We are trying to create our own hero (antihero) in conjunction with the Attorney General's Civil Rights Campaign to combat bullying in the schools. We are in the process of developing and recording our own episodes for the morning announcements (Badger Woman comes armed with Badgers of Courage for those who join in the battle). This fits with lots of learning results, but what we really wanted was an excuse to listen to every Chickenman episode! Thanks for making Chickenman available!

— Shirley LaBranche/Sanford, ME
The year couldn't have ended better. I received the Chickenman collector's edition on December 3Oth. And several hours later I was 5 CD's further and still very impressed with the show. It brought back good memories of listening to AFN over here in Holland, by a transmitter at NATO headquarters in Belgium.

— Maarten M. Schutjes/THE NETHERLANDS
Order The Story of Chickenman Now
It is a great feeling to have all of the Chickenman episodes, including the promos and interviews. It brings back fond memories of my mid/late 1960's teen years when Super 'CFL 1000 was the king of Chicago Top 40 AM radio. My thanks to Dick for giving us (the Baby Boomers) a chance to relive some of the best years/times of our lives. The Story of Chickenman is very impressive and is very much a major part of Chicago/Top 40 AM radio history.

— Bill Wall/Hanover Park, IL
I first heard the Chickenman episodes in my car each morning on the way to work, in Richardson, Texas. At work these days, when someone wants my attention and asks: "Wade?", I always say: "Yes, I am." Recently, a neighboring cubicle-dweller ask me why I always answer that way. I told him about the Chickenman episodes on radio in the 60's. He looked it up, on-line (right there, at work), and I couldn't resist ordering it. I took one sample CD to work and let him listen to it. So now he also knows where I got "that" way of saying "...Well!..." I think I caught all of the episodes from the beginning, but I don't remember going to London. Also, I didn't hear any of the weekend smokin' episodes — so I'm very happy with the complete collection.

— Wade Mickesh/Houston, TX
I can't tell you how delighted I was with The Story of Chickenman. I grew up out of the country in the Panama Canal Zone and used to listen to Chickenman on A.F.R.T.S., I remember my brother, sister, father, mother and I, rolling on the kitchen floor in peals of laughter ... FOR YEARS! When I found this collection through Ira's plug on This American Life it was the perfect no-brainer Christmas gift for my father (but really, my whole family; Dad was just the ringleader.) I was a little worried that it might not arrive in time for Christmas, because you had so many orders at once for that one item, but you came through with flying colors. Several other people that I have talked to who knew Chickenman growing up were so jealous when I told them. I have refused to "burn copies" for anyone, and referred all inquiries to your site. I was so thankful This American Life gave you the plug on their "Poultry Show" and lead me to you, and this wonderful addition to our family's entertainment library.

— Tim Streeter/Banks, OH
Years ago (back in the 70s when I was in high school), I was a big fan of the Tooth Fairy (and — later on — the Masked Minuteman as well). My best friend and I would eagerly await each and every episode, and spent much time discussing our favorite episodes and what might come next. I had first heard about the Chickenman radio series a few years later (when I was in college), but I had never been able to find it on any radio station where I lived. I bought The Story of Chickenman on blind faith (being familiar with Dick Orkin's other series and his numerous radio commercials — especially the old Budget Gourmet ads), and I have not been disappointed!

— Jim DeMarco/Boxford, MA
I recently received The Story of Chickenman. I looked forward in anticipation to its arrival, as I only dimly remembered the series from my teenage years. So far, I've only listened to the first four CD's, but I have been extremely pleased. Not only are the episodes as funny and bizarre as I remembered, but the strong environmental messages and themes presented in the stories bring me back to a fresher and more idealistic time. An unexpected bonus in The Story of Chickenman has been my nine year old son's enthusiastic adoption of the series and his insistence that we take it on long car trips.

— Forest Blanton/SW Ranches, FL
Order The Story of Chickenman Now
Enjoyed the heck out of The Story of Chickenman. I have had many requests from individuals such as myself who enjoyed the programs while in Viet Nam.

— Bill Seidman/Stockton, CA
The Story of Chickenman was a great package to purchase. It captures a style and era of creative radio that doesn't exist anymore. I was a teenager in Niagara Falls, New York when I first listened to Chickenman on WKBW 1520 AM. Like so many, I originally thought Chickenman was created and originated from the 50,000 watt KB'. It was later when I got into broadcasting myself that I recognized Dick Orkin's distinctive voice and found out Chickenman was a syndicated series that ran all over the country. Listening to the many episodes brought me back and the interviews with and by Dick were a real treat. I highly recommend The Story Of Chickenman to anyone who enjoys radio's classic theatre of the mind productions and cherishes the ground breaking radio era of the 60's.

— Bob Koshinski/West Seneca, NY
I remembered Chickenman from when I was in grade school and thought I would likely listen to the CDs once or twice a year. My eight-year-old daughter instantly fell in love with them and we have listened to them all at least 20 times.

— Mike Lozano/Brownsburg, IN
Having been a Top 40 jock and program director in the Chickenman Era, I had often wished that I had dubbed off that proverbial unauthorized copy. Now I have this wonderful set of CDs to bring back those happy memories while driving.

— Ray Dennis/Des Moines, IA
As one who listened to Chickenman in its virgin airing, syndicated to KSTT in Davenport, Iowa, during my high school years — THANK YOU for releasing this great package of all the episodes I heard back in the day!!! The background info from Dick and his engineer was super to fill in the blanks. I remember using my own two speed reel to reel to slow down one episode, and hear "Miss Hellfinger" simply reading some technical manual, which became spacemen's jargon at double speed. Thanks again to both you and Dick for providing a wonderful memory. The smiles land on my face, just like they used to. This fun has stood the test of time.

— Dale Leichsenring/Altoona, IA
Thanks for putting together the Chickenman episodes. it was worth the wait to get them all!

— Mark McCoy/New Castle, IN