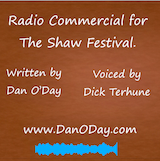 The other day in the private group for The Accents Class, someone mentioned, regretfully, that the production of a play by George Bernard Shaw, in which he's performing, is reaching the end of its run.
"You familiar with The Shaw Festival?" I asked.
"Oh, yeah. Of course!"
That prompted me to share one of a number of radio commercials I created several years ago for one of my all-time favorite clients: The Shaw Festival at Niagara-on-the-Lake, Ontario.
Why Are They One of My All-Time Favorite Clients?
Great people to work with. Smart, creative…and not afraid to consider addressing their target audience differently than most theaters ever would talk to their patrons.
Great product — world-class productions of world-class plays.
They Weren't Too Lazy to Answer My Research Questions.

They made my job as copywriter easy by thoughtfully answering the 37 questions I posed to them.
While they may have wondered why I would ask some of those questions, I had no way of knowing which question(s) would present to me the clue that cracked open the story I would need to tell.
In this instance, it was a question about the most common reasons that prevent theatre-lovers from attending as frequently as they should.
They Didn't Balk at the Prospect of a Radio Advertising Campaign that Accuses the Advertiser of Having Been Less than Honest.

They didn't freak out when the commercials I wrote acknowledged and even amplified one of the key objections that needed to be overcome. Hopefully you'll be able to figure out what that big objection was.
Please follow and like Dan's blog:
Facebook Comments