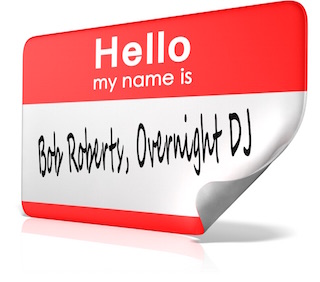 This is a true story.
I was there. It really happened.
It's a story about a large market disc jockey whom I'll call "Bob Roberts."
Yeah, it was tough to decide among that and "Steve Michaels," "Mike Stevens," "Mike Roberts," "Steve Roberts," "Rob Daniels," and "Dan Roberts."
"Bob Roberts" is not the name of the jock who stars in this story.
There's no point in trying to guess his true identity, because you won't find any clues in the air name I've given him.
Although thanks to consolidation and syndication they're now an endangered species, most full-time radio stations had an "overnight jock" who typically worked from midnight until 6am.
Those shifts could be a very long six hours: Few if any commercials to play. No contests. Few if any listener phone calls*.
(*I'm not including those two people who always called.)
But at least the overnight radio host was a valued member of the team, right?
Especially someone like "Bob," who'd been working that station's all-night shift for 5 years.
The morning show, afternoon drive, even the part-timers all comprised the station's air staff, a team.
Comrades in arms, everyone doing their best to contribute to the station's identifiable sound.
(Well, maybe except for a couple of the part-timers.)
Rarely the highest-paid people in the building, but a team dedicated to entertaining an audience and, when possible, avoiding members of the sales staff.
The large market station manager called a meeting of the entire air staff at 4pm on a Wednesday afternoon.
Pretty much the worst possible time for an overnight jock, but presumably "Bob" knew the job was dangerous when he took it.
"Bob," the 5-year veteran of the overnight shift, showed up a few minutes before the meeting was scheduled to begin.
As he walked down the corridor, toward the conference room, the station manager approached him.
"May I help you?" asked the manager.
Please follow and like Dan's blog:
Facebook Comments