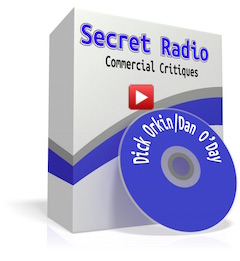 Several years ago, radio advertising legend Dick Orkin and I critiqued a bunch of commercials that were submitted to us by attendees of the International Radio Creative & Production Summit.
Neither of us had heard any of the commercials in advance.
We scheduled some time at the Radio Ranch, gave the recordings to an audio engineer, slapped on our headphones, listened to each spot, and then shared, discussed and debated our impromptu reactions.
Here's one of the radio ads we critiqued. Feel free to jot down notes of your own reactions as you listen along with us.
Download free radio copywriting audio seminar.
Please follow and like Dan's blog:
Facebook Comments