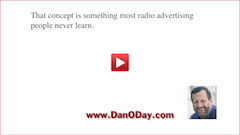 This is our third and final case study of successful, local radio commercial campaigns.
The challenge: Advertise a new, high-end restaurant…that hadn't even opened for business yet.
Here's a hint: The solution was not to boast about how authentic the cuisine is.
P.S. This video also includes an important announcement!
Comments
comments