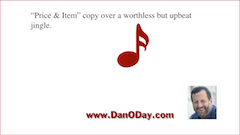 In this second of our radio commercial success video series, you'll learn how a small grocery chain used a radio ad campaign to increase its sales by 11.6% in a year.
Their secret? They didn't do what all their competitors do with their radio advertising.
They didn't do what almost every supermarket or grocery store does in its radio commercials.
They didn't do "price & item" spots.
Comments
comments