During my daily 20-mile run….
Uh…
During my several times per week 0.9 mile stroll to the public mailbox, for months now I've passed the sign you see below, in front of a house.
Around here, those signs advertise either "House for Rent" or "House for Sale."
Take a look at the sign and tell me what's missing. (No, not the identifying info I blocked out.)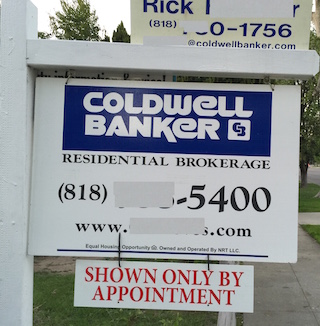 Did you spot key piece of information that's missing from that sign?
If not, take another look.
They've got that big, two-sided sign.
Alongside the sign is plastic holder which at one time, presumably, contained flyers describing the property. The plastic holder has been empty every time I've passed it.
So the real estate agent is going all out to attract prospects.
Here's What's Missing from that Real Estate Sign
What's the offer?
Is the house for sale?
Or is it for rent/lease?
Nowhere do the signs indicate why you should call or email that agent or go to the company's website.

The agent neglected to tell passersby whether the house is for sale or for rent.
That sign has been there for months.
And months.
I wonder why.
How many radio commercials is your station airing right now that may be entertaining, that may be "well produced," that may be "memorable…"

…but that your audience can't figure out what the heck the spots are offering?
The Formula for Successful Radio Commercials
1.  A strong offer
2.  Clearly delivered
3.  To the right audience
4.  Repeatedly
Please follow and like Dan's blog:
Facebook Comments