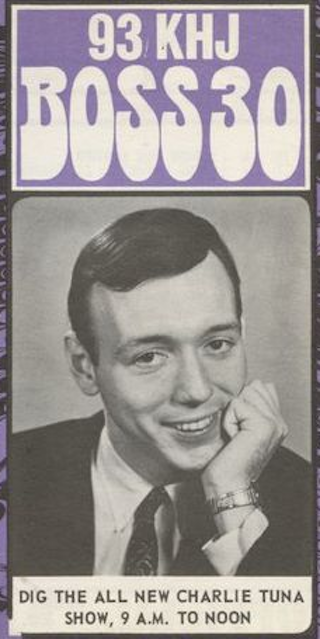 When I first came to Los Angeles as a teenager, one of the first disc jockeys to catch my attention was Charlie Tuna at KHJ.

I admit that my first reaction was, "What an idiotic air name!"
At the time, you couldn't turn on the TV without seeing Star-Kist Tuna's animated spokesperson/mascot: "Charlie the Tuna."
It took me a couple of weeks to get past the air name and pay more attention to the DJ.
That, by the way, is the first time I've ever referred to a talented, successful radio guy as a "DJ."
The Honorable Profession of "DJ"
I always preferred "jock" — possibly because it reflected that bond among those of us who worked ridiculous hours for usually low pay. We didn't all play for the same team, but we all played in the same league.
All of us were "radio guys."
Others preferred "air personalities," "radio personalities," or "radio hosts." All are fine with me.
But Tuna — see how completely I and the rest of the radio world adapted to his name? — was a DJ.
He was a DJ in the purest, best, most joyful sense.
At the age of five, he played "DJ" in front of the record player in his family's home.
Does This Sound Like a "Real Radio Guy"?
At the age of 16, as a high school junior, he did the morning show at KGFW in his hometown of Kearney, Nebraska…
…went directly from the radio station to school…
…and returned to KGFW to do the evening show…
…and, of course, whatever production had been left for him.
I don't know what he sounded like at the ages of 5 or 16, but somewhere along the way he came into possession of one of the all-time great voices — the voice that all of us male jocks dreamed of having:

I had forgotten that's where I heard that line I've been using for years…
When I first heard him on KHJ and got past his name and his incredible voice, I realized something that intrigued me:
Whenever he cracked the mic, he'd have a humorous comment about the record or something in the news, etc.
That's not unusual among jocks.
But I mean every time he opened the mic.
Charlie's material wasn't hysterically funny.
It wasn't edgy.
It wasn't filled with social relevance (during a socially tumultuous time in America).
And somehow, even then I could tell he hadn't written that material.
But it was funny. Kind of smooth, middle-of-the-road funny.
It was well-crafted for the 7 seconds he might have over the next song intro.
To be absolutely clear: I'm not damning with faint praise his humor or his show. This is not some snarky way of saying he delivered mediocre material that he didn't write…with a smooth voice.
When you heard Charlie Tuna on the radio, you heard a pro.
Charlie did make it a point to carry a notebook around with him, to jot down any & all thoughts, observations and inspirations that came his way.
That was a habit he picked up from observing the great Larry Lujack at WMEX/Boston.
Many of those notes made their way into his show. But they were observations, musings and lighthearted comments about our pop culture.
The jokes…The snappy one-liners…He delivered them very well and with impeccable timing.
But somehow, because I just naturally gravitate to the structure underneath a creative work, I knew those funny one-liners came from somewhere, someone else.
As a budding young writer/performer, did that lower my enjoyment of his show?
Hell, no. I was witnessing something I don't think I'd encountered before from a "DJ": craftsmanship.
Tuna's humor wasn't fall-down funny.
It wasn't, "Wait until I tell you what Tuna said today" funny.
But it earned every appreciative chuckle it received from listeners break after break, show after show, year after year.
In fact, I suspect that one thing that made him stand out from the rest of us "funny jocks" was that his goal wasn't to be funny; it was to entertain people.
He wasn't there to show off; he was there for the audience.
Regardless of the station, format or airshift, I don't think Charlie ever showed up for a show unprepared.
Although we had talked on the phone a few times and exchanged a couple of emails, I'm sad to say I didn't really know him.
He was the rock-solid radio pro whom I first enjoyed all those years ago on KHJ.
I was the guy whose comedy service (among many others, I'm sure) Tuna subscribed to…all those years ago.
The Missing 5.1 Miles
A couple of years we ago Charlie and I had exchanged emails about some long forgotten topic. When I heard he had died, I searched for them, thinking they might give me a clue what to say here.
Not finding them, I checked my database for his email address, which I might be able to use to successfully complete my search.
When I saw his contact info, my heart sank.
I knew that for many years he'd been living in Tarzana, California. (That's in "the Valley" portion of Los Angeles County.)
During almost all of my years in L.A., "Tarzana" didn't mean much to me because I lived in a different part of L.A. "The other side of the hill," as we say.
But a few years ago I moved. Much closer to Tarzana.
I went to Google Maps, entered Charlie's address, entered my address…and discovered we had been living 5.1 miles away from each other.
Once again, I had blown it. How pleasant it would've been, swapping stories over lunch, with my getting to know more of the person behind the voice behind the microphone.
Just 5.1 miles away.
We Would Argue About Charlie Tuna's Radio Show.
A good friend of mine — a radio guy — and I have disagreed more than once about Tuna's work.
We agreed about Charlie's having been a real pro, a nice guy, reliable performer.
But my friend would shake his head and say, "Yeah, but as a jock…I mean, he sounded great, but all he ever did was read jokes that other people wrote."
I would respond by saying to him what I've been saying to you: "Yeah, but his material wasn't bad. He delivered it well. I always felt that when he entered the broadcast studio, he wasn't there to entertain himself; he was there to entertain the audience."
It's only now that I realize why I, as a listener, respected Tuna so much:
He never let down his audience.
He was a professional. A professional radio DJ in the best, grandest, most humbly human way.
He wasn't there to show off or to impress. Charlie Tuna was there for his audience.
And he never let them down.
Please follow and like Dan's blog:
Facebook Comments