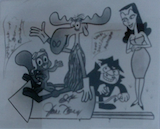 If you do any kind of email marketing — which includes a voice actor mailing to client base or a radio station mailing to its database — here are two simple yet valuable tips for you.
Unfortunately, the first one is surprisingly difficult for me to adhere to…although I try. I really do try.
WARNING! Do NOT Click Here Unless You Want to See the Voiceover Marketing Class curriculum.
Please follow and like Dan's blog:
Facebook Comments