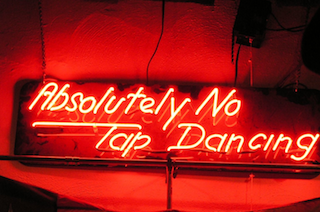 Recently I've written about the importance of "honoring the verbal reality" on a radio morning show (or any daypart).
Every on-air team member needs to understand what the show is trying to accomplish at any given time.
Some team members, however, just don't get it. In fact, some don't know they're even supposed to be team members.
The most extreme example I've ever witnessed was in the UK at a BBC regional station, where I was brought in to coach the breakfast show.
The presenter was very good, creative, inventive.
One of his guests demonstrated — on the radio programme — the art of tap dancing.
They brought in a board and a studio mic picked up the sounds of the guest…tapping.
In an inspired moment, the host decided that all the other guests on his show that morning would tap dance.
Callers, weather reports, traffic reports…He played tap dancing sound effects beneath each of them:
"Sally, this morning I'd like you to tap dance during your weather report."
"Oh, okay." And Sally would just go ahead and give the weather while the presenter added the SFX.
It was a bizarre, funny little bit, and everyone played along.
Everyone except the station's traffic reporter up in the station's traffic copter.
"By the way, Ian, if you don't mind I'd like for you to tap dance while you tell us what the traffic is like."
"No, thanks."
What???
News Flash! Except for that one person who came carrying a plank of wood and wearing taps on his shoes, no one on the breakfast show really was tap dancing that morning.
The traffic reporter knew that, because the host had explained it to him off-the-air.
Why in the world did he say, "No thanks"?
He didn't realize he's not a traffic reporter. He's (supposed to be) part of a radio morning show team.
Please follow and like Dan's blog:
Facebook Comments