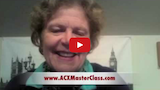 Tomorrow we close registration for the ACX Master Class for audiobook narrators.
We asked several of last year's graduates what they found most surprising about learning to record audiobooks.
Their answers included the editing process, cost of equipment needed to get started…
Well, let's let them tell you.
We also asked them how their lives have changed since embarking on their audiobook narration careers. Jannie Meisberger's answer was my favorite:
Click here for ACX Master Class details & registration info.
Please follow and like Dan's blog:
Facebook Comments