This week I'm sharing advice, inspiration, and "the radio vibe" from my sorely missed friend, Terry Moss.
I don't have any photos of Terry. His sister, Mary, was kind enough to scan a few of her personal pictures and send them to me.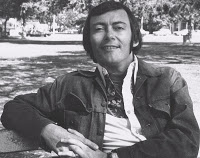 I don't know where or when this taken, but it's a family picture.
When I spoke with Mary, still in the family's hometown of Rochester, New York, she said, "Although we fought a bit when we were kids, once we were adults we were such good friends. I always imagined that one day we'd both retire and live near each other, keeping each other company."
Here's some advice from Terry to radio DJs everywhere.
Note: The "comedy sheet" he scolds is O'LINERS, which I happened to write and publish.
The L.A. Air Force Terry Moss Collection
Please follow and like Dan's blog:
Facebook Comments