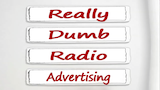 The loyal reader who sent me this radio commercial was upset because of the way the advertiser ridicules the station that broadcasts the ad.
If I'm advising the advertiser, however, I wouldn't really care whether it hurt the station's feelings.
I would, however, point out to the advertiser — in this case, the Dish Network — that they're throwing their money away on a nonsensical campaign that will not produce results.
View this radio commercial critique on YouTube.
Please follow and like Dan's blog:
Facebook Comments