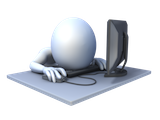 It's really not that difficult to write an effective radio commercial.
Here are a few basic rules.
1.  Don't talk in stupid cliches.
2.  Don't use inappropriate adjectives.
3.  Don't begin your spot with words guaranteed to make everyone in the audience stop listening.
Here's an example of a retail radio ad that doesn't follow those three simple guidelines.
View this radio commercial copywriting video on YouTube.
Please follow and like Dan's blog:
Facebook Comments