This is the kind of "free" offer your radio advertising clients should be making.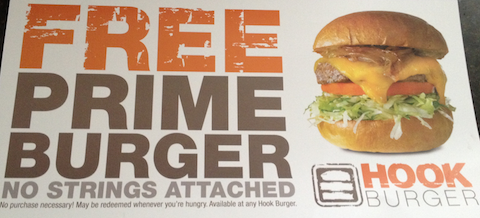 Background
This oversized, full color postcard arrived in the mail.
One side (shown) makes the offer in very clear terms:
FREE PRIME BURGER
No Strings Attached
Yeah, right. I know to look for the "fine print." Probably it's "with purchase of any large drink and order of fries."
And "at participating locations only," "only between 2PM and 4PM."
Oh. The fine print says:
"No purchase necessary!"
"May be redeemed whenever you're hungry." (What a great bit of ad copywriting!)
"Available at any Hook Burger."
Huh?
Whenever I want? Whatever location I want? I don't have to buy anything else?
They Use the Reverse of the Card, Too.
Whenever you see a postcard mailer or flyer that uses only one side of the paper stock, you're seeing an advertiser who doesn't know how to use direct mail.
As Dan Kennedy says, "Paper is expensive. Ink is cheap." If you've got that additional real estate, use it.
The reverse of the card:
* Repeats the offer in a big headline
* Has enticing photos of their burgers as well as a few other items (while the front shows only the burger that's being offered for free)
* Gives the address of the Hook Burger location closest to me (directly my eyes to it with a bold headline)
* Includes an easy to read street map, pinpointing the location for me.
* Contains legal fine print (expiration date — which is more than 60 days away; one postcard per customer; photocopies cannot be accepted).
But check out the first 2 words of the "legal fine print":
"Includes cheese."
Damn, somebody is on the ball at Hook Burger. They used the required "legal disclaimer" to make the offer more appealing.
Not All of Your Radio Clients Should Make "Free" Offers.
I've never heard of this company. Maybe it's brand new; maybe it's new to my geographic area.
But it's new to me, and the goal of this campaign is to get me to eat one of their burgers (and presumably, enjoy it enough that I'll return in the future to buy more).
They don't cheapen (or complete negate) the offer by adding all kinds of limitations to it.
They also know a hefty percentage of people who come in for the free burger also will buy a soda (their highest margin item) and some french fries.
They have a single goal: Get people to sample their hamburgers.
I don't (yet) know how good their food is. But whoever's handling their marketing appears to be smarter than the average fast food advertising bear.
If you're an account executive, don't let your advertising clients run radio commercials that pretend to offer a gift but in reality are lame offers in an ineffectual disguise.
Please follow and like Dan's blog:
Facebook Comments