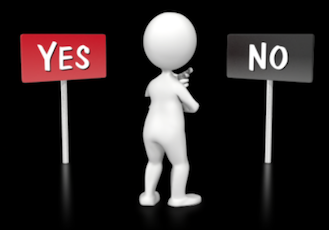 Recently I attacked the just-won't-die urban legend that has convinced legions of copywriters never to begin a radio commercial with a question.

Some readers partially agreed with me but warned against ever using questions that prompt either a "yes" or a "no" answer.
"After all," they said, "what if the listener says no? You've got nowhere to go then."
The opening line of your spot is the commercial for the commercial. It's your one chance to get your targeted listeners to raise their hands and say, "Here I am!"
There are endless instances in which I might begin an ad that is looking for the people who say "no."
"If you died tomorrow, are you certain that your family's financial future would be secure, that they wouldn't have to worry about money?"
If I'm advertising insurance, I'm looking for people who say, "No, I'm not certain of that."
But what about people who don't have families? Or people whose families already are financially secure?
I don't care about them. They're not the people I want to talk to.
"Are you happy that during (Politician)'s administration, property taxes have doubled, unemployed has increased 50%…and (Politician) has gotten a 75% raise in the salary we pay him?"
In that political campaign spot, I'm trying to get the attention of voters who will respond, "No, I'm not happy about that."
Yes/no questions are no different than any other element of your radio commercial. Utilized with a clear purpose and skill, they can be an effective tool.
Used unthinkingly and clumsily, they can limit the ad campaign's effectiveness.
Please follow and like Dan's blog:
Facebook Comments