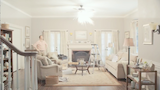 Frank Anderson writes:
Hey Dan!

I just saw this national commercial today and wanted to get your take on it.

I laughed. It's funny. But I wonder if showing people botching home improvement projects is the best way to advertise a business that sells.. well.. the stuff for home improvement projects?
Whether in a radio commercial or a television ad, that's exactly the wrong advertising message to be giving.
The guy in the story obviously bought the "home improvement" materials somewhere, and the result is a disaster.
At the end of the spot they say, "Need Help?" And then they flash the Lowe's logo.
In the description beneath the YouTube video they say, "Installation can be tricky. Come to Lowe's. We've got all the tips and tools you need to get the job done right."
So it turns out they're trying to get people to come to Lowe's for "tips."
But they haven't done anything to move consumers from equating Lowe's with "do-it-yourself tools" to equating Lowe's with "informed advice about how to do your own home repairs."
Instead, they've equated "doing your own home repairs" with "disaster."
Dumb, dumb, dumb.
Please follow and like Dan's blog:
Facebook Comments