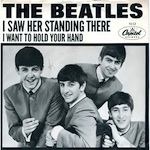 I happened to listen to an oldies radio station in a certain very large U.S. market, which was presenting (for no apparent reason, and with no sense of fun or audience involvement) a "One-Hit Wonders Weekend."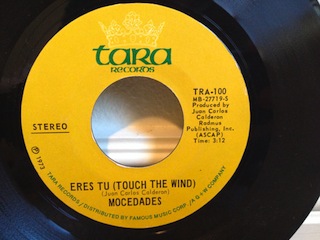 The jock outro'd Mocedades' "Eres Tu":
"…which is Spanish for 'Touch The Wind.' "
Except, of course, it's not.
It's Spanish for "You Are."
The flip side of the Mocedades record was entitled "Touch The Wind," with new lyrics added to the melody of "Eres Tu."
This is a station that presents itself as the authoritative source on Oldies (or Gold, or Classic, or whatever you want to call it) music.
Gee, I wonder if anyone in that market, with its mere 48.2% Hispanic population, would notice the error?
Why did the DJ make such a sloppy mistake?
Because the jocks at this station are required to provide interesting tidbits about some of the songs.
And from what source are they expected to get those tidbits?
While the music is playing, they are supposed to go online and find something — anything — about the title or artist.
As a result, they end up delivering the first piece of trivia they stumble upon — because they're in a hurry.
The first piece of trivia, of course, is likely to be the one that is most well-known.
You need to dig for the lesser-known (and therefore often more interesting) bits of information.
This big oldies station is doing exactly what its listeners can do just as easily and just as well (or in this case, better):
A fast Google search.
So the radio hosts end up telling listeners fascinating facts that are less than fascinating…because the audience already knows them.
If you tease an upcoming Beatles song by saying, "Its original title was 'Scrambled Eggs,'" many listeners won't know which song you're referring to. But many will, because it's a commonly known fact regarding one of the most popular songs of the 20th Century.
On the other hand, quite a few intrigued listeners would sit through a commercial break if they heard the jock say:
"You know how 'I Saw Her Standing There' begins, right? 'She was just 17 / You know what I mean.'

"What DID the Beatles mean by 'you know what I mean'?"
When I ask radio people who attend my seminars what that line means, the most common responses I get are:
"Hot"

"Jail bait"

"Young & pretty"
What do you think that line means?
Nope. It doesn't mean what you thought it means.
Here's Paul McCartney himself to tell you where that line came from.
View this Paul McCartney video on YouTube.
If you're a Beatles fan, do you find the "You know what I mean" insight a bit more interesting than the more tired "Scrambled Eggs = Yesterday" bit?
If so, it's probably because the info is new to you.
"Scrambled Eggs" was interesting when you first learned it — all those years ago.
But jocks who are expected to do their "research" without any prep time…during their shows…with Google as their research tool….
Well, they're never going to find "the good stuff."
Instead, they simply do exactly what listeners can do for themselves: a quick, superficial Internet search.
And they rob radio of its magic.
Download Dan O'Day's PERSONALITY RADIO.
Please follow and like Dan's blog:
Facebook Comments