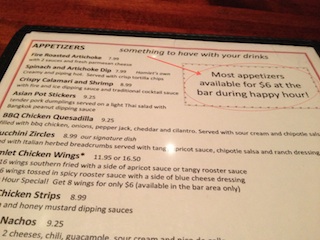 This is from the dinner menu at Hamburger Hamlet, a Southern California restaurant chain that has dwindled away to a very small number of locations.
Obviously, they are eager to attract "happy hour" business at their bar, which they encourage by offering $9 appetizers for $6.
But that's only at the bar. Not in the restaurant.
Yet the restaurant menu promotes the happy hour appetizer specials.
Imagine this:
You're seated at a dining table in the restaurant, try to decide what to order.
You know those appetizers aren't particularly healthy, but what the heck. Might as well treat yourself to some pot stickers or nachos to go with your burger.
But wait. According to the menu in front of you, just a few feet away at the bar you can get those appetizers for just $6 — 1/3 less than you'll pay if you order them with your dinner.
A sign in the restaurant declares, "Happy hour prices apply only to food served at the bar."
So you can't order it at the bar and bring it over to your table.
You were ready to pop for the nine bucks for the unhealthy appetizers…but not if it means they're going to treat you as a second class patron.
(Someone once pointed out that Americans don't mind being ripped off; we just want to be ripped off equally.)
So you choose not to be a sucker, you forego the appetizer, and the restaurant loses an upsell.
Dumb, dumb, dumb.
Is the dwindling number of Hamburger Hamlet locations due solely to its bad restaurant marketing?
I don't know. But it can't help.
Question for Radio People
Do your radio station's promotions actively alienate some of your audience?
Facebook Comments