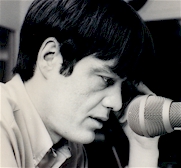 Larry Lujack died last week.
The first time I heard an aircheck of "Superjock," I realized there's a dimension of being a radio personality that I hadn't been aware of.
In fact, it might've been that long ago aircheck that made me realize there's a difference between a "radio DJ" and a "radio personality."
Until then, I'd thought all of us were "jocks." Some of us were terrible, some were pretty good, some were great. But I thought we all were doing the same job.
The instant I heard Lujack I realized two things:
1.  He's not trying to be great disc jockey. He's being himself.
2.  He's consciously choosing which aspects of his core personality to share with the audience. He's playing a character named Larry Lujack. The character is based on himself, but it's a character.
The bravado, the "superjock" persona, the "I'm the greatest" proclamations…Instinctively I sensed that he knew he was good while privately retaining the insecurities that plague all performers (and all humans).
After I left radio and launched my own comedy services, I also created The Whole O Catalogue, featuring books, tapes and other resources for radio people.
The first issue of that little catalogue included Lujack's book, SUPERJOCK.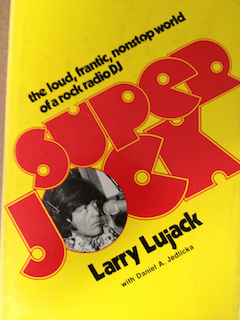 That's my copy. Greatest book ever written about the life of a radio disc jockey.
I don't recall the page number, but if you read that book you probably recall his mentioning an unnamed female singer who generated her only hit record by sleeping with any DJ who would play it.
In the book, Larry didn't identify her because, he explained, he'd only heard the stories; he couldn't say for sure if they were true.
When I called him to ask that he send me the raw tape for my "Greatest Shows On Earth" project (see below), I asked who the singer was.
"I really don't want to reveal that," he said.
"Oh, c'mon," I said.
Repeatedly.
"I won't tell anyone," I promised.
Finally he told me.
I wouldn't have guessed the singer's identity, but it made sense.
No, I won't tell you. I promised Lar I wouldn't.
Around the time I began my catalogue, I launched what became a series of five 2-hour cassette tapes entitled The Greatest Shows On Earth. (The title, by the way, was suggested by my late, great pal, Terry Moss.)
Each volume consisted of four 30-minute airchecks of great radio personalities. Larry was one of the four featured on Volume One.
Larry sent me a reel of tape containing an aircheck of one complete show, and I edited it down to a half hour.
All these years later, his comment at :28 of this excerpt frequently comes to mind in my daily life:
Many years later I launched PD Grad School. In its third year — when I still was producing it in Dallas (before I realized it was much easier on me if I produced it in Los Angeles, where I live), I asked Larry what I would have to do to convince him to be one of my guest speakers.
His reply: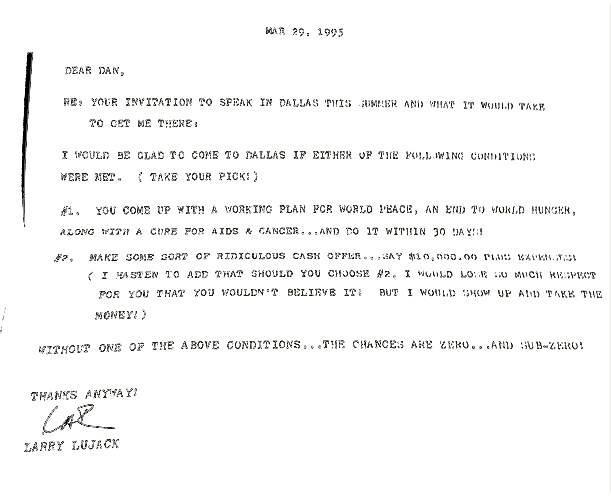 Many people know much more about Lujack's career and about Lujack as a person.
I'm just one of many who loved hearing him on the radio, where he belonged.
So long, Uncle Lar.
And thanks.
Please follow and like Dan's blog:
Facebook Comments