Recently I videotaped my next-door neighbor as she explained how listening to the radio literally changed her life.
I haven't yet uploaded that video, but as I reflected on the impact radio had on her as a child, 60 years ago in England, I found myself flashing on random images from my past.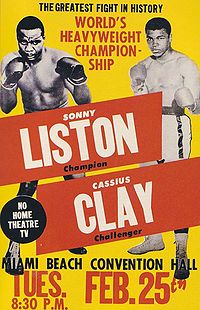 I remember the Cassius Clay/Sonny Liston heavyweight title fight. The entire world watched it live on TV — except for those of us living in South Florida, where it was blacked out (because the fight took place in Miami). I listened to the fight in our driveway, on the radio of my family's car.
I remember nighttime AM signals from far away that interfered with my local stations. I remember wondering who and where those distant voices were.
It was like an unexpected window into a different galaxy. I didn't know who or where those people were, but I understood that what they were saying was important to other communities.
I remember, barely a teenager, winning all the contests at WHEW/West Palm Beach. Yes, you would have called me a Prize Pig. But I always followed the rules. I'm the reason they changed the rules to "once a month" for winners.
They gave away terrible prizes: promo copies of records that never made it to the airwaves. Somewhere I still have a copy of "Swingin' Gates" by The Fencemen.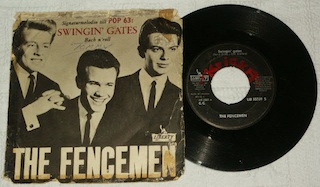 That's the only title I recall from all the junk records I won. (By the way, WHEW mailed their prizes.) I remember it was an instrumental (I listened to it one time, when I received it), and I thought the combination of title and artist was incredibly lame.
Many years later I learned The Fencemen consisted of David Gates, Leon Russell, Chuck Blackwell and Billy Strange. Maybe that old 45 of mine is worth something.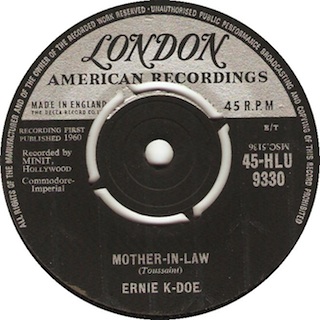 I remember WHEW's night jock, Chris Edwards, announcing that he no longer would play Ernie K-Doe's "Mother-In-Law," because his mother-in-law was wonderful and the song offended him. (It didn't occur to me, then, that probably the song had been dropped from the station's playlist.)
I remember visiting the WHEW studios at the invitation of Chris Edwards – "Big Fat Chrissy Edwards," as he often referred to himself. The studio wasn't particularly impressive. It was just a room where DJs made magic.
I remember meeting Chris eight years later in San Francisco, where I was a disc jockey and he had gone over to "the dark side" — sales at KYA. He recognized my name from my Such A Good Contest Player (uh, Prize Pig) days.
I remember hitching a ride to Hollywood and one day hearing a disc jockey say on the radio, "You could be getting paid to be a professional disc jockey, just like me!"
He didn't mention the part about getting fired a lot and becoming all too familiar with the mechanics of loading a U-Haul trailer.
I remember winning a prize at an L.A. radio station, driving over to pick it up, and meeting the program director in the lobby.
He was wearing shorts and a t-shirt. And I thought, "This is the job for me."
I remember the guys at the radio school I attended who constantly (and condescendingly) dropped names of stations and people I'd never heard of. All of them were sure they'd either start at KHJ or be there in a year or so. As far as I know, none of those name-droppers ever got a radio job.
I remember, while at broadcast school, applying for a Sunday morning position at an "easy listening" radio station (KGOE?) in Thousand Oaks, California. I didn't get the gig — possibly because during my on-air audition I misidentified most of the songs I played.
I remember the ad I placed in the "Situations Wanted" ad in Broadcasting magazine: "DJ, tight board, good commercials. Will relocate."
I remember my amazement at being offered my first on-air job as a result of that ad.
I remember, at my first radio job, standing outside in a pasture on a Sunday night as the station owner worked on the tower. (He didn't have a First Class Radio Telephone Operator's License. I did. So I had to be there.)
We were there from 7 in the evening until 2 o'clock the following morning. When the owner decided to call it a night, he turned to me and said, "You don't have the dedication it takes to make it in radio."
Shortly after the entire air staff was let go (because, allegedly, the on-site owner had embezzled so much cash from the operation that they no longer had money for salaries), a highway patrolman pulled me over for speeding. He motioned for me to turn into the next driveway — which happened to belong to the radio station.
I remember later being told by someone who was inside the station at the time, "When you pulled into the driveway with the police behind you, (Station Manager) hid in the closet where we keep the teletype machine. He thought you had called the cops on him!"
I remember a General Manager who spoke to me only twice: When he hired me and when he fired me.
I remember another GM saying, "You're being offered a job in San Francisco? Sure, go check it out." He didn't even dock my pay for the days I was gone.
I remember the GM of that San Francisco station hiding under his desk to avoid having to speak with his grown daughter, who had come to town on a visit.
I remember programming a tiny station in Florida and — I forget how — hearing the voice of Bill Rock at WNBC/New York. I wrote him a letter, asking if he'd be kind enough to record jock intro's for my staff.
He'd never heard of me, but a couple of weeks later I received a tape in the mail with the most professional (at the time that meant, "big, deep voice") jock intros in our market.
There's no way he would remember that today. But I remember.
I remember the trade publication editor who was much too important to talk to me at his publication's convention. And I remember the resume he sent me 20 years later, along with a cover note saying how much he'd like to "join your organization."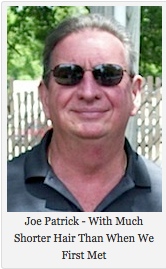 I remember losing my job in Naples, Florida. The nearest radio station was in Fort Myers, 45 minutes away. I drove there one evening and the night jock — Joe Patrick, a complete stranger — said, "You can use our production room every night that I'm here, until you've finished your new aircheck so you can find a new job."
I remember being told that a few months after the "new" PD who had engineered my demise in Naples himself was fired — and, allegedly, took with him the station's entire (vinyl) Gold library.
I remember the station receptionist who, during my show, called me on the hotline to ask, "What is your middle name?" (She was filling out some sort of form.)
"I don't have a middle name," I truthfully replied.
"Oh, okay," and she hung up.
Three minutes later the was back on the hotline: "What is your middle initial?"
That's the same receptionist who once barged into the production room to ask, "Do you know your 'on-air' light is on?"
I remember writing on the record labels the real running times of each song we played, so I'd be able to back-time accurately.
But what I remember most vividly are those ghost voices in the night, reaching out to me from distant states and magically appearing between my favorite stations on the AM dial.
Disc jockeys whose names I'll never know, talking to an audience whose locale I couldn't pinpoint but whose pulse I could sense through my radio.
Please follow and like Dan's blog:
Facebook Comments