One of my favorite on-air radio moments was when I was a jock in San Francisco.
At the time, "Yesterday Once More" by the Carpenters was a hit. That particular song began almost cold, on the vocal.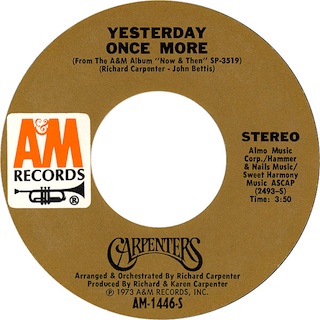 As I cued up the record for the 300th time, a quarter-turn to the left, a quarter-turn to the right, the much slower manual speed drastically altered the sound of the Carpenters. In fact, I mused, it kind of sounded like the Righteous Brothers.
Uh-oh. I felt an idea coming on. The kind of idea that makes management nervous but strikes me as funny.
"In just a couple of moments," I said, leading into a commercial break, "I'll be playing the world premiere of the brand-new Righteous Brothers record."
Coming out of commercial, I explained I'd managed to get an advance copy of their newest single, and surprisingly they had recorded the same song that already was a hit for the Carpenters.
"Here, I'll play it for you. And then you can call in and let me know whose version you prefer."
And I played the Carpenters' 45 at 33 1/3 rpm.
I thought maybe people would get a chuckle out of the obvious stunt.
They didn't chuckle.
As soon as the song ended, they called in to vote for the one they thought was better.
No one realized I was joking.
The highlight was the caller who said, "You know, at first I thought you were just playing the Carpenters at a slower speed. But when they got to the harmonies, I realized it really was the Righteous Brothers. Nobody can touch their harmonies."
You be the judge…