Yesterday we heard from a radio personality who was frustrated at the lack of courtesy he believes emanates from too many program directors.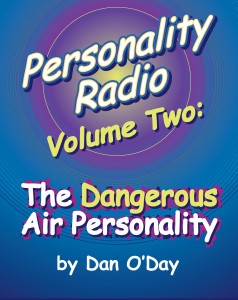 PERSONALITY RADIO, VOLUME TWO: The Dangerous Air Personality includes a recounting of an incident that occurred at the beginning of Jay Meyers' career.
"In 1975 I was novice jock, looking for work. I called up this program director at a small station in Chester, Pennsylvania. He said, 'Yeah, I have a weekend opening. Meet me at the station at 10:00 on Saturday morning.'
"It was about an hour-and-a-half drive for me. I got there at 10:00 and waited. 10:15…10:30….Finally he arrived at 10:45. One of the jocks there said, 'This guy is here to see you.'
"The PD looked at me blankly and said, 'What do you want?' I said, 'I'm Jay Meyers, and you told me to come at 10:00 this morning for an interview.'
He said, 'Oh, I changed my mind. I can't see you now.' And he walked away.
"Years passed. I ended up as Program Director at WFIL/Philadelphia in 1983.  My second day on the job I got this 12-page resume and letter: 'I'm this long-time Philadelphia air personality, I hear you may be going oldies, and I want to be involved in it, I'd be great for you, etc.'
"I read through the resume, and when I came to the part where it said, '1975:  Program Director, WEEX/Chester,' it suddenly clicked in. It was the very same guy!
"I wrote him a letter that said, 'In 1975, when you were program director at WEEX and I was just a beginning jock, you had me drive out to your station to meet you, but when I got there you wouldn't give me the time of day.
"'Well, guess what!'
"And I put it in an envelope with his résumé and mailed the entire package back to him!
"So sometimes it's true:  What goes around comes around."
Please follow and like Dan's blog:
Facebook Comments