Recently I asked, "What is your radio station's lemonade moment?"
This year Ken Levine and I had to find a new hotel to host our annual Sitcom Room.
We settled on a small boutique hotel we'd never heard of: The Custom Hotel, not far from Los Angeles International Airport.
Everything about the hotel has a sense of coolness, of fun, of subdued playfulness.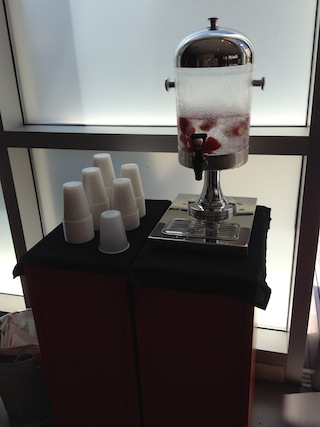 This is in the hotel lobby.
It's filled with ice water…and strawberries.
An ingenious way to give a surprise gift to hotel guests (and visitors) at virtually no cost to the hotel.
The Custom Hotel is right next to a large supermarket.
I'm guessing that each morning, an employee is dispatched to the supermarket to buy a $2.49 box of strawberries.
Again I ask: What is your radio station's "lemonade moment" that surprises and delights its listeners/advertisers/sponsors/partners?
Please follow and like Dan's blog:
Facebook Comments