A Loyal Reader Writes:
"I think I know the answer, but I would like to know how you feel about making listeners pick up prizes.

"I'm talking about movie passes. Not CD's that could be broken in the mail or concert tickets that could be lost.

"Our manager insists we have all winners who live within the city limits pick up all prizes."
I've addressed this at length before.
Having listeners pick up prizes — not only movie passes but also CD's, tickets, etc. — does the following:
• Makes the station seem cheap.
• Makes the station seem petty.
• Makes clear that the station doesn't care about the winners.
• Takes an exciting an event in the listener's life — winning a radio contest — and turns it into a chore.
How many stations are so shortsighted as to make their listeners pick up their prizes?
Almost all of them.
The fact that so many stations act so foolishly doesn't make it right. It just makes it commonly foolish.
Years ago a program director told me his radio station's general manager justified the practice by saying, "Heck, people don't even bother to pick up 90% of the prizes we give away anyway!"
Ummm….Yeah. You're giving away prizes that people don't want enough to expend the time and energy required to come to your station "during normal business hours" and pick them up.
The fact that people don't pick up their prizes is not evidence that you're doing something right.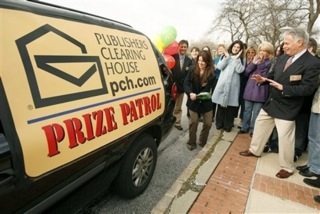 Bottom Line: If I win $10,000,000 in the Publishers Clearinghouse Sweepstakes, they come to my house to deliver the check.
But I'm supposed to sacrifice an hour of my life to come to your station and pick up two tickets to the local boat show — which otherwise sell for $2 each?
Sorry, no.
If you can't make winning a radio contest an exciting, enjoyable experience from start to finish, keep your stupid prizes and play another record instead.
Please follow and like Dan's blog:
Facebook Comments