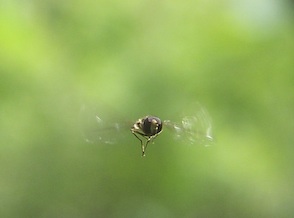 This is from a show prep service, which in turn took it from someone else's website:
The average air speed of the common housefly is:
A)  2.5 miles per hour
B)  4.5 miles per hour
C)  6.5 miles per hour
D)  8.5 miles per hour
Answer: Who cares??
How can you use the air speed of the common housefly as the basis of an on-air trivia question that will generate phone calls and involve the rest of your listeners?
Compare it to the speed of at least one other entity.
How about…?
Which travels faster?
A)  A common housefly in flight
B)  Tobacco juice spat directly onto the ground by a major league baseball player
or
A)  A common housefly in flight
B)  The winning entry in this year's (Local Fundraiser's) 3-Legged Race
or
A)  A common housefly in flight
B)  (Afternoon Jock) as he crawls home from a night of pub hopping. (Find out how fast the average adult can crawl and cite that as your benchmark.)
or
A)  A common housefly in flight
B)  An amoeba. (The amoeba loses, big time. A housefly averages 4.5 miles per hour, while an amoeba would travel only around 12 millimeters in the same time period.)
or
A)  A common housefly in flight
B)  An earthworm. (Another loser, covering only 18 yards per hour. And that's assuming he's well-conditioned.)
A good on-air trivia question involves the entire audience. It challenges them, intrigues them, or — best of all — makes them smile.
For 15 years I wrote and published a comedy service called O'LINERS.
I hired two Hollywood game show writers to write a page of trivia questions.
I told them that every question had to be fully researched and documented.
And I told them that I wanted listeners to smile when they heard the question.
Here's one of the questions they came up with for the very first issue, and it remains my all-time favorite radio trivia question:
"Which holds more: The gas tank of a Volkswagen Rabbit…or an elephant's bladder?"
They had the answer, but the answer really is irrelevant. It was the question itself that was worth hearing.
Please follow and like Dan's blog:
Facebook Comments