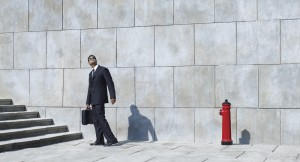 A Loyal Reader Writes:
"Have you ever been asked or recruited to return to the world of day-to-day radio — perhaps as a cluster Ops Manager, General Manager, or group exec? Would you do it? Why or why not?

"(Okay, that's actually three questions … but I'm curious to know what the circumstances would need to be to get you to 'drive the bus' again.)"
Until maybe 10 years ago, I used to get Morning Show offers several times per year.
Would you do it?
Nope.
Why or why not?
1. I don't like working for other people. Long ago I decided that if I have to work for an idiot, I might as well work for myself. I prefer to have as much control over my destiny as possible — which means I get credit for my failures and for my successes.
2. One of my definitions of success long has been "not having to leave home." Although I do spend a lot of time on the road, I spend zero time commuting. (The commute from my bedroom to my office takes approximately 30 seconds.)
3. I have no desire to spend any of my life in endless meetings or writing pointless reports.
4. I prefer to work my own hours (even if they're far more than they'd be if I worked for someone else).
All of the above notwithstanding, I do still enjoy working with radio stations and groups that want to achieve meaningful morning show ratings growth or increased client retention via more effective radio advertising.
Thanks for your question. And now let's continue with this week's countdown….
Facebook Comments