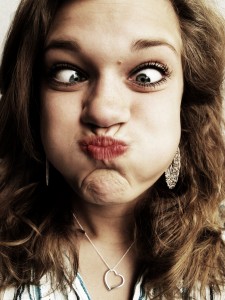 John Leader — former major market PD, former Managing Editor of Radio & Records (who gets the blame for my column appearing there for 9 years), and for a long time one of the top movie trailer voice over artists, writes:
Forgive me if this is something you've discussed and I've missed, but…

I've noticed that no one ever breathes in commercials anymore. All breaths are removed (pulled up, I assume), which I'm sure saves precious time, but also gives copy-heavy reads an unnatural sense in my opinion.

It's disconcerting listening to someone run through 60-seconds of copy without ever taking a single breath. But, most spots are doing it, so apparently it's the norm.

Your thoughts? Or, am I just getting cranky (wouldn't be the first time)?
We all know the reason this happens: Advertisers foolishly try to cram as much "stuff" into their commercials as possible.
Quite a few production people, meanwhile, take great pride in their ability to excise every breath from a piece — even with copy that could be shortened to enable the announcer to speak conversationally.
And that's what is lost by this practice: Conversation. We do pause when we converse. We pause to breathe; we pause to think; we pause for emphasis.
Meanwhile, producers are forced to sacrifice communication for more words. Many words spoken quickly, with no pause for breath. Voila! The perfect commercial.
Those advertisers, copywriters and producers would profit by taking to heeding the words of Antoine de Saint-Exuper, best known for his novella, THE LITTLE PRINCE:
"Perfection is achieved, not when there is nothing more to add, but when there is nothing left to take away."
Please follow and like Dan's blog:
Facebook Comments