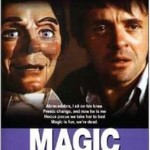 This was one heckuva powerful movie trailer.
When the film opened, lots of people turned out to see a horror movie…and were disappointed.
MAGIC was a psychological thriller with terrific performances from Anthony Hopkins (whom to this day I believe should've received an Academy Award nomination), Burgess Meredith and Ann-Margret.
You've heard the expression, "Nothing kills a bad product faster than good advertising"? This was a case of good advertising killing the wrong product.
The commercial attracted people who entered the theater expecting one kind of movie and left the theater with negative comments — because it wasn't the movie the advertising promised them. And that bad word of mouth killed the film at the box office.
Please follow and like Dan's blog:
Facebook Comments