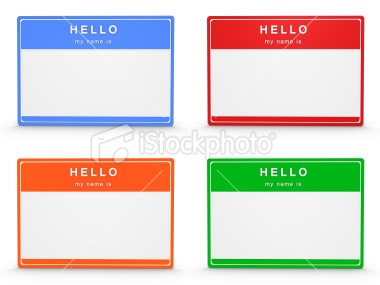 This is so simple, yet so many on-air teams never think about it…and it hurts them.
When your team converses on-air, be sure to use each other's names frequently.
Why?
• For shows featuring two male or two female voices, many of your listeners have a hard time knowing which is which.
Test this for yourself:  Have you ever had the experience of a friend, relative — maybe even your spouse — complimenting you for something they heard you do on-the-air…and you had to tell them, "That wasn't me"?
If so….
If even people who know you sometimes have trouble distinguishing your voice on the radio, then imagine how difficult it is for people who don't know you.
• Even for shows featuring just one male and one female, there always is someone who is hearing you for the very first time. Yes, they can tell "one's a guy, the other's a gal," but they won't know who you are unless you tell them.
When your listeners know exactly who every on-air character is, they become more relaxed and more involved in whatever is happening on your show.
What's the best, easiest and most effective way to use each other's names frequently? Get into the habit of starting sentences with the other person's name:

"Bob, I hear you went to Atlantic City over the weekend….."
"What about you, Bob? You have a nine-year old daughter. Would you let her…."
"Bob, did you catch the President's speech on TV last night….?"
It will take you a week or two to get used to doing this. At first, it'll feel odd, unnatural. But if you do it for two weeks, two things will happen:
1.  Not a single listener will call you up to ask, "Why do you guys keep using each other's names like that??"
2.  It will become a habit, and you'll no longer need to make a conscious effort to use each other's names frequently and naturally.
In the long term, your listeners will feel more comfortable with your show because they're always aware of who is speaking.
And your ratings will improve, because your listeners will always be aware of whom they're listening to.
Please follow and like Dan's blog:
Facebook Comments