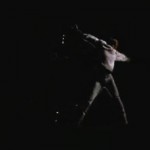 20+ years ago I was at the Writer's Guild Theater in Los Angeles, waiting for a movie screening to begin.
A trailer for another film preceded the movie we had come to see.
No one in the audience — comprised of "industry people" — had ever heard of this not-yet-released new movie. Nor of the star (whose name isn't even mentioned).
But when this trailer ended, the entire theater burst into HUGE applause. A spontaneous, unanimous, "Wow that was great!" ovation. Turn up your volume first….
They should give Academy Awards for Best Edited Trailers: John Lithgow's eye movement at 0:42 is magnificently placed, resulting in great foreshadowing that shifts the focus from pure fun to something more sinister. This movie trailer is like a great record: Just as good now as the first time I experienced it.
Please follow and like Dan's blog:
Facebook Comments