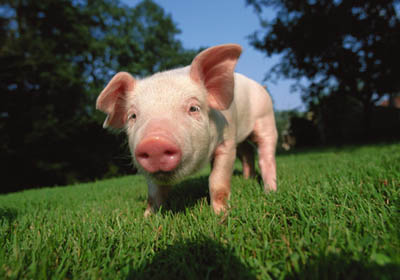 A Loyal Reader writes:
"PRIZE PIGS! Every radio station has 'em. But what's the best way to handle 'em?

"We've got a solid core and I'm keen to put some rules in place, but I'm wary of souring someone's winning experience with a bunch of rules banning them from the airwaves for however long. I'm looking for more subtle answers."
First, I applaud your concern for protecting your listener's winning experience.
Second, stop thinking of them as "prize pigs" (as do most radio people) and start thinking of them as "highly responsive listeners." Radio is the only industry I know that routinely denigrates its best customers.
For example: I fly a lot. I've flown 1.5 million miles on United Airlines. To United, I'm a "1K" flyer; that's their designation for a passenger who flies at least 100,000 miles per year with them. And they give me special perks that aren't available to less frequent flyers, including:
* I earn double mileage on all flights. I've got more than a million air miles "in the bank." I dip into them to fly my mother First Class when she visits from Connecticut. A few years ago I cashed in 400,000 miles to take my family First Class to Sweden.
* There's a special 1K reservation number.
* Special 1K lines at most United ticket counters. I'm embarrassed to admit to a certain smug satisfaction when I bypass a line of 200 United passengers and enter a line of two or three 1K flyers.
* Special 1K TSA security lines at some airports.
* Early boarding of flights.
* I can upgrade (using miles I've accrued, certificates I can buy for a nominal amount, or certificates United routinely sends me every time I log another 10,000 flight miles) from any published fare.
That means flying First Class in the U.S. for a few hundred dollars…or Business Class to Europe, roundtrip, for as little as $800. (Or First Class internationally for the price of a Business Class ticket.)
* Special treatment when flights are cancelled or delayed. For example, I've found myself on a flight that arrived too late for me to make the connecting flight I had been booked on…and when I checked in at the airport I learned they already had booked me on the next flight out.
* They're more willing to bend the rules for me when necessary — waiving penalty charges, freeing up a seat for me when the computer says it's not yet available, etc. (Those lovely new charges for checking baggage? Not for us proud, exhausted 1K flyers.)
But if radio people ran United Airlines, instead of "1K flyer" I'd probably be called a "flight pig."
Third: Understand that you should have only two concerns regarding "prize pigs":
1.  That they don't deprive other listeners of a fair chance of winning.
2. That they don't damage your station's image by winning so often that other  listeners feel they are at a disadvantage.
I think the typical rule of thumb of "no more than once every 30 days" prevents both of those problems from occurring.
Your situation may vary, of course. If you've got a small market, night-time music show in which you give away small (probably meaningless) "sales promotion" prizes each evening, your phone traffic might be light enough to justify a mere one-week embargo on repeat winners.
On the other hand, the station in my market (Los Angeles) that limits its winners to "no more than once in 90 days" is just plain foolish. They want people to listen every day but prohibit them from winning even small prizes four times per year?
Please follow and like Dan's blog:
Facebook Comments