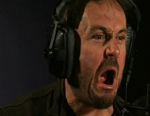 British actor, writer and voiceover artist Jonathan Kydd wrote and stars in this gripping voiceover video drama.
I am sharing this video with you with Jonathan's permission. © by Jonathan Kydd. All Rights Reserved.
Two things you probably don't know about Jonathan:
* He has what he proudly proclaims to be "a ridiculous singing act" called The Amazing Singing Dentists.
* Maybe you did spot this, but I didn't: In the video, Jonathan plays not only the voice actor but also the director.
More info on Jonathan Kydd at his website.
Please follow and like Dan's blog:
Facebook Comments