LEAP OF FAITH RADIO PRODUCTION with Bobby Ocean
Now we're talking writing material, like a commercial, from scratch. I like it now, used to dread it. But that's one of the boons of experience – finding your strengths in any given field.
I found one of those strengths in outer space.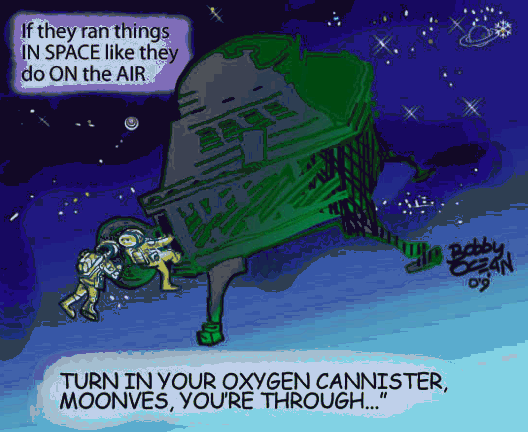 When I worked at XM Satellite Radio, I was one of their few experimental expeditions into allowing a host to originate from other than their studios, then located in Washington D.C. and I was tracking from my studio in California. I did a four-hour, afternoon, all-70s music show, heard from 3 to 7P in California and up through the different time zones to Miami where I was on daily from 6 – 10P.
Working with Lee Abrams and Eric Logan, I put together a different direction for the then disco-leaning all-70s channel. I added the "cosmic," ingredient to my DJ persona and we were instantly and completely "stone free," baby. Suddenly, on XM's pre-set Seven button things weren't the same for satellite listeners.
Between the music format and comically cosmic Space Jock, the 70s became mentally unstabilized and teetering on the psychedelic edge of logic and creation. – that is, freed from the typecast two-dimensionality of the dance fashions, and liberated from ALL conventional norms.
This took quite some amount of writing — averaged out to 120 liners a week and they had to be carefully written for a national audience. Further, I wanted to sound live, like I was having fun and able to blow a mind every now and then — without alienating people with difficult concepts.
It just came to me that with no staff, I had to create a playbook for myself with a limited quantity of proven moves, a fat set-list of 70s themes and scenarios within which to perform. To that end I devised a series of little formulas containing everything from time travel concepts to Eastern philosophies, all simplified and rendered into one-liners.
To physically write that much material required help, and none other than my own was forthcoming. How did it get done? The process required a small series of steps:
1. Turn on Awareness (get to the center where you "know that you know").
2. Turn on Understanding (willingness to "go along" cranked open and up. Improvisers do this with their "no blocking" unwritten rule. They always move forward with a premise rather than stop and question it.)
3. Add Music List and station elements (artist, title, genre, story, specific reference lines; Channel-7, XM, special slogans like "Listen Large!" and other channels info); there was no end to cross-plug material;
4. Mix the basic ingredients around a bit to make different flavored drops, get out of the way and let it come.
For three years I kept things comic book simple, even Salvation, worked hard with my techs across the country, had fun, and my channel was always in the top three of all XM channels sampled, always killed the other satellite's 70s attempt.
I don't know if a similar thing will happen to you, but, once I turned the writing faucet on to Full Open, and got out of the way, the ensuing stream smashed any ideas I had in place about not being able to do it, and never trickled. The Stones' Keith Richards was right when he said about writing, "it just comes, I receive it. It's like…Incoming!"
BTW: No one says you have to turn off the understanding and awareness.
Facebook Comments