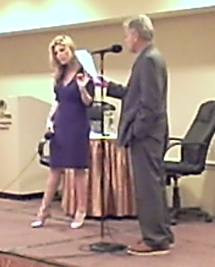 If until now the only voice acting direction you've received is "more energy" or "make it friendlier," here's a glimpse of someone with a different perspective.
As a former agent and casting director, Nancy Wolfson's sole goal is helping the voice actor book the audition. And she's very, very good at that.
Nancy had never met radio legend Bobby Ocean before he bravely stepped onstage at this year's International Radio Creative & Voiceover Summit.
Granted, in Bobby she had a lot of talent to work with. Still, her keen ear and psychological insights are remarkable.
As are the results.
If you'd like to learn a lot more of Nancy's methods for turning "good" performances into "hire that person!" performances, here is where you can download a nearly 3-hour recording of one of her live seminars. (I was there. It was a mind-blowing experience.)
Facebook Comments