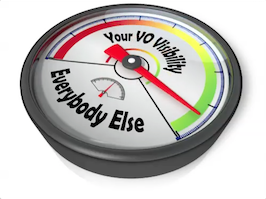 Here is the third in our series of Voice Over Marketing training videos.

Thanks for all the great comments and social media "sharing." 
I can't wait to hear your responses to this new video, because it's crammed full of new information, including…
The #1 marketing mistake voice actors make
The #1 business mistake voiceover professionals make
The Psychology of Referrals (and how to ask for them)
Major pillars of a coordinated voice over marketing system
How to charge a premium for your work (and have clients happily pay that premium price)
(Case Study) How to increase the number of your website visitors who listen to your VO demos by 39.8%…without increasing your number of visitors
How to identify your Perfect Client…Including a Perfect Client Blueprint we're giving you (no strings attached) as a free download.
After you watch this video…
If you're not already on our Alert List, add your name where it says "Tell Me!" so we can let you know when we open registration for our Voice Over Marketing Class.
Registration will be open for only a brief time, so you'll want to be on the Alert List.
Download your Perfect Voice Over Client Blueprint.
(Note: You are downloading a zipped file. After you've downloaded it to your hard drive, double-click on the .zip file, which will unzip it and reveal both a PDF and a Microsoft Word version of your Perfect Client Blueprint.)  
Voice Over Marketing Video #1 (opens in a new window)
Voice Over Marketing Video #2 (opens in a new window)
{ 14 comments }